New on the KBC Business Dashboard
The Business Dashboard is the ideal tool for your business's banking and insurance matters, which you can use at any time of the day. That's why we constantly invest to make your Dashboard even clearer, to offer extra possibilities for customising it and to add functions to simplify your everyday banking transactions. And all within a highly secure environment.

At the end of May, we added several new features to your Business Dashboard:
SEPA credit transfers made from Belgian KBC and CBC accounts will now arrive at the payee's bank on the same day at no extra charge, if they are registered* before 12 noon on a banking day. 
That means you no longer need to select 'urgent' (a paid add-on) before 12 noon for individual transfers and batched payments.
If, after 12 noon, you want the funds to be credited to the payee's bank on the same day (i.e. a banking day), you will have to select the paid add-on.
You should bear the following cut-off times in mind:
Registration before 3.50 p.m
Urgent individual transfers and urgent batched payments containing one transaction that must arrive at the payee's bank on the same day.
Registration before 2 p.m
Urgent batched payments containing more than one transaction that must arrive at the payee's bank on the same day.
More information on the faster processing of SEPA credit transfers and on instant credit transfers in the future can be found on this page.
* A transfer is registered when it is sent to KBC, been correctly signed and the amount can be deducted from the account.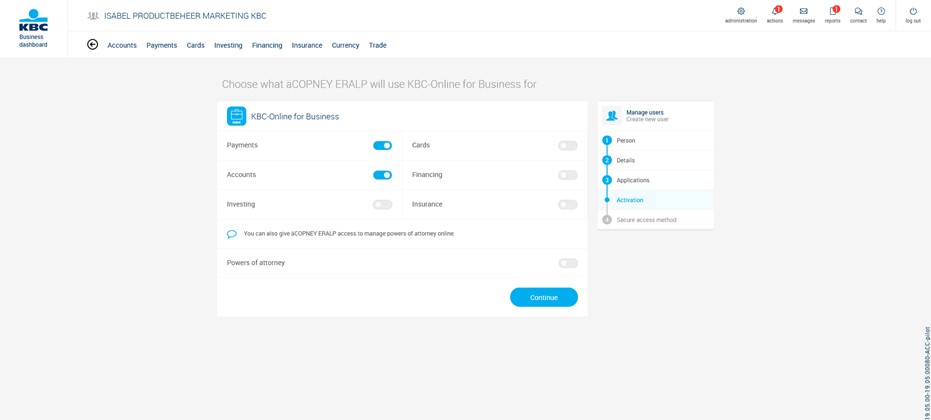 Online for Business administrators can provide a customised Dashboard to users to ensure they see only what they need to see. That gives them a better overview and facilitates more efficiency in their day-to-day activities.
If you add a user to Online for Business, you can now choose from seven separate sections: Payments, Accounts, Investments, Financing, Powers of Attorney, Cards and Insurance.
As soon as you assign a section, the user in question can start using all the routine functions for that particular section.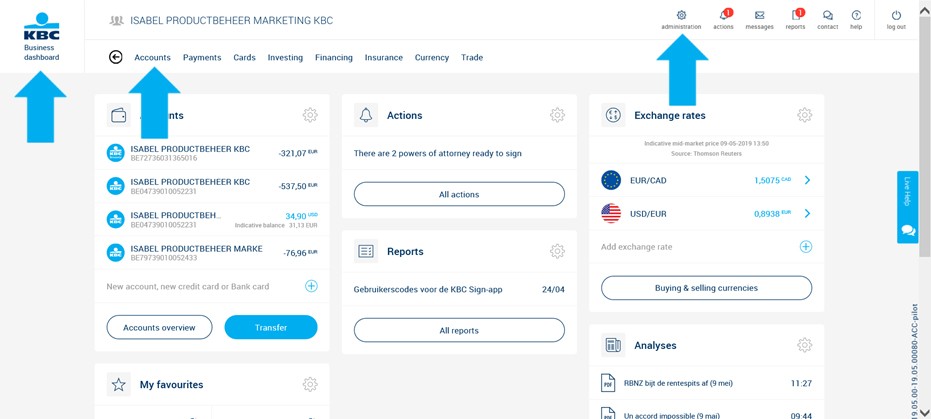 We're making the KBC Business Dashboard even easier to navigate so that you see only what you need to see. If you want to add an additional section or function, that can be easily arranged by your KBC Business Dashboard administrator.
All shortcuts, including your administration portal and logout button, are now at the top right of the screen. This also gives you a clearer overview and more focus. To return to the homepage, all you have to do is click the KBC logo.

KBC Business Dashboard FAQ
Things administrators need to know
KBC Business Dashboard FAQ
More information?
KBC Business Dashboard
KBC Business Dashboard, a portal that gives you access to all your business banking applications.
KBC Business Dashboard FAQ
Do you have questions regarding the Business Dashboard? Get the all answers by reading the FAQ.
KBC Business Dashboard FAQ