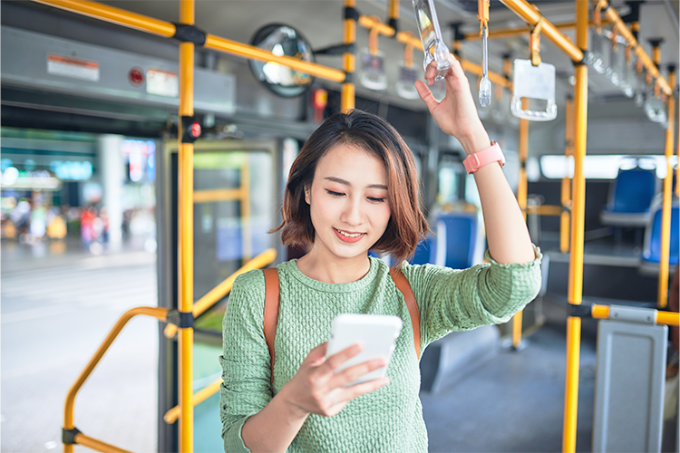 Spare change investing
The number one choice of our digital investors

Invest with small amounts of money 
Stay in control of your finances 
Get started quickly and easily in KBC Mobile

You invest in the fund on your own initiative without investment advice from us. That means we don't assess whether the fund is a suitable investment for you and are unable to fully check whether you belong to the fund's target market. Contact your branch or KBC Live to learn more about getting investment advice from us.

Why invest your spare change?
Turn your small change into a big investment that – in time – could make you more than saving. It doesn't matter whether you're new to investing or an old hand, anyone can do it. If you're just starting to invest, you can begin with small sums of money to give you a basic idea of what investing entails. If you've already got an investment, investing your spare change is a neat way to supplement your existing portfolio. 

What exactly is spare change investing?
You make purchases and payments from your current account every day. If you decide to invest your change, we'll round up what you spend to the nearest euro. Once your roundups reach 10 euros, we put them into an investment plan for you, meaning you invest without it impacting your wallet or lifestyle to any noticeable extent. 
How does spare change investing work?
Suppose you pay 3.51 euros at your local bakery. We'll take 4 euros off your account and add 49 cents to your investment plan. We'll do this for all your everyday spending, unless you'd end up going overdrawn on your account. Something you may be interested to hear is that the average KBC customer rounds up about 90 cents every day. That results in a monthly investment of 20 euros! 
More about spare change investing
When you start investing your spare change, you automatically open a free investment plan. That investment plan is linked to a fund. Once you've set aside 10 euros by rounding up your purchase amounts, we invest that money in the fund. It's at this point that you buy in and pay the standard entry fee of 2.5% of the amount invested. The ongoing charges (including the fund management fee) amount to 1.86% annualised, but these are already included in the net asset value of the fund, so you don't have to pay them separately. You'll receive further details when you start investing your spare change in KBC Mobile.
You can pause and resume your investment, and you also have the option to stop investing for good and withdraw your money. This can be done at any time, and once your investment has been sold, you'll quickly have access to your money again. Be aware that there are charges when you stop investing: a 1.32% stock market tax and a 30% withholding tax.

It might make sense to stop investing if you need you money back, but it's a better idea to take a long-term view. The return on your investment may fluctuate, but the more time you give it, the more chance there is that the good months on the stock market will cancel out the poor ones. You'll receive further details when you start investing your spare change in KBC Mobile.
If you'd like to pause rounding up your purchase amounts, you can do so with a couple of taps in KBC Mobile, and it's easy to start rounding up again later. Just keep in mind that no additional investments will be made as long as it is paused, and your transactions will not be rounded up until you choose to resume.
When you start investing your spare change, your investment plan will be visible the next business day. Just go to 'Investments' and tap 'Investment plans' to see it. It's only when your roundups amount to 10 euros that we invest in the fund. It then takes three business days before you can see and track the fund in KBC Mobile. A good way to start accumulating roundups is by investing your spare change.

Users of KBC Mobile can start investing their spare change in just a few taps. Our app shows you how much you've already invested and what that may have made you in the meantime.
Spare change investing is intended for our personal banking customers aged over 18 who want to start investing in a fun, easy and accessible way.

You invest your spare change from a personal current account or a joint current account (if you're married or living together with someone).
Yes, you can. Simply set up a standing order to add to your investment every month on top of your roundups.
We round up all your everyday purchases and payments from your account to the nearest euro at the end of each day. That includes credit transfers, card payments, standing orders, direct debits and loan repayments.

We won't do any rounding up if your account has a negative balance or roundups would cause you to go overdrawn on your account.

Already investing your spare change and have a specific question?