If your bank, credit or prepaid card is lost
Call Card Stop immediately on 070 344 344 (0.30 EUR/min). They'll stop your card and ensure you get a replacement. Card Stop can be contacted at any time of the day or night. Let your branch know that you've lost your card as well.

If your bank, credit or prepaid card is stolen
Call Card Stop as soon as possible on 070 344 344 (0.30 EUR/min) to have your card stopped. Card Stop can be contacted at any time of the day or night. Notify your KBC Bank branch and file an official report with the police within 24 hours.

If your bank, credit or prepaid card is retained by an ATM
Bank, credit or prepaid card refused
Information you need to give to Card Stop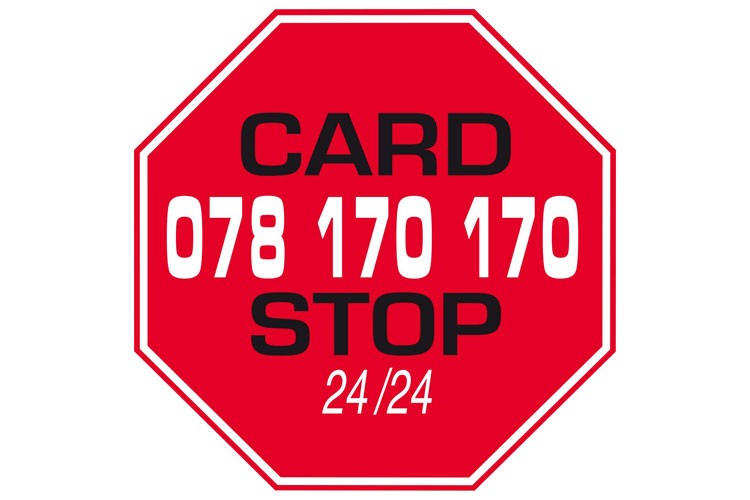 The Card Stop operator will ask you for details of
The circumstances, i.e. whether your card has been lost, stolen or retained by an ATM
Who you are, including your name, where you live and when you were born
The card to be stopped, including what type of card it is, its number and who issued it
The account number linked to the card
At the end of the call, you'll be given a number you need to keep as a reference.
My card is blocked for online use
If you get a message notifying you that your card has been blocked for online use, it means you've entered the wrong PIN three times in a row when logging in. To unblock it, all you have to so is get in touch with your branch. Until then, you can continue to use your card for paying in shops or at payment terminals. 
Reactivating your card
Once you've had your credit card or prepaid card stopped, that's that. A frozen bank card, however, is something that you may be able to have reactivated. Contact your KBC Bank branch for help with this.

Do you wish to dispute a transaction, or do you have questions about a specific transaction?
KBC Bank Card: contact your KBC Bank branch. We will definitely need the following details:
Your name

Card number and type of card
The name of the merchant, location, time and amount
KBC credit card and KBC Prepaid Card: you can dispute a transaction by visiting www.macarte.be, where the procedure is set out in detail. You will have to fill in an electronic form.
Changing card limits
Activating bank and credit cards for use in the US
You can easily activate your card for payments in the United States yourself, in KBC Touch and %%product.mobile%%. Or you can call KBC Live.
What to do if you receive a fraud prevention letter from Worldline
If the Fraud Control department at Worldline suspects that fraudsters have accessed your card details, they will write to tell you. Thanks to its collaboration with Visa and Mastercard, Worldline can quickly trace fraud. The letter will tell you what to do.
You can find out more here.
Tip
Add Card Stop's number (070 344 344) to your phone contacts so you can call them immediately if your card is lost or stolen.