You will be reimbursed quickly for your expenses
Even if someone else is liable for the accident.
One, two or more children for a single premium
We've got you covered worldwide.
Run a simulation with no obligation
Even if you're not a customer.
What is accident insurance?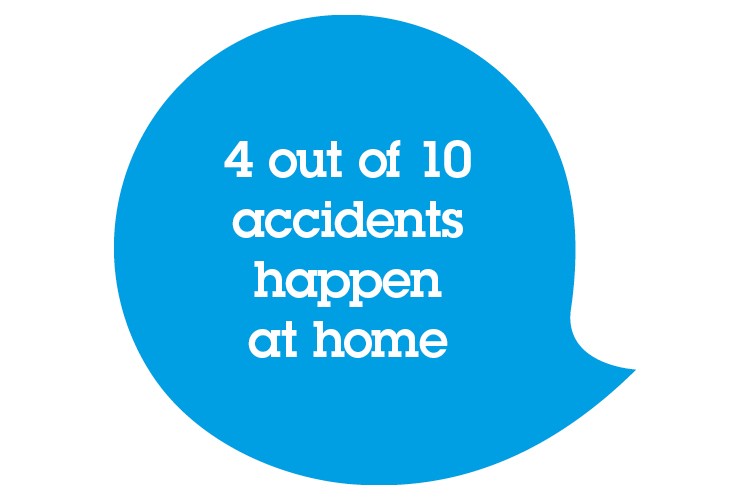 KBC Accident Insurance covers you for personal accidents, including accidents at home, in your garden, doing sports or pursuing hobbies.
Accidents will happen...
You could fall off a ladder when gutter cleaning, hurt yourself pruning, cycling or jogging or burn yourself with an iron.
And those are just a few of the everyday accidents that can easily occur before you know it. If the worst does happen, it's reassuring to know that you're well covered by personal accident insurance.
Why is accident insurance necessary?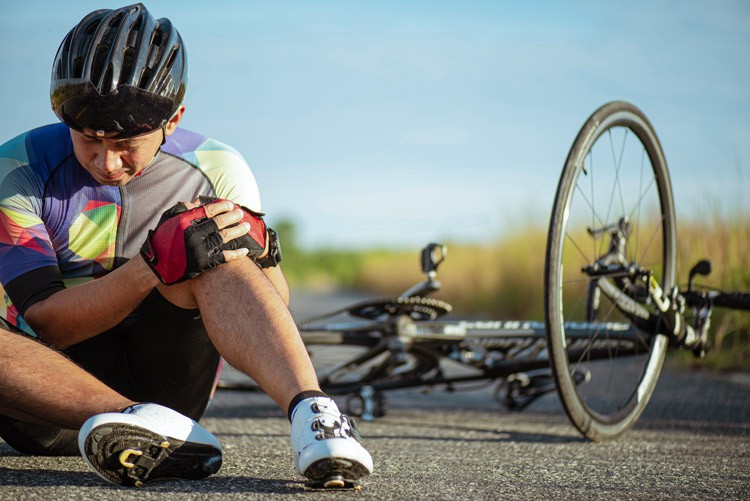 Did you come off your bike or fall while you were skiing? Or did you suffer serious burns while barbecuing? Your health insurance fund or hospitalisation insurance doesn't always reimburse all of your medical expenses. For example, physiotherapy, cost of a first prosthesis, glasses, etc. Our personal accident insurance does, for up to five years after your accident. It also provides financial support for your loved ones if you become permanently physically disabled or die. For example, to purchase a wheelchair, to make modifications to your home like installing a lift, to make modifications to your car, to purchase an assistance dog, or for other investments and extra costs after the accident.
Personal accident insurance covers you, your partner and your children against the financial consequences of an accident. It even covers your children's playmates (up to the age of 14) when they're over at your house to play.
Work out what your accident insurance will cost you and apply online
Use our handy calculator to see what your accident insurance will cost you. To determine if we can immediately offer you accident insurance online, we consider details concerning the insured and their insurance claims history.
You can take out your insurance immediately online, even if you're not yet with us.
Easily and quickly file an accident claim with our app.
And with us, you're not on your own. There's always a KBC Insurance agent in your neighbourhood who will be happy to help you with your claim. That includes insurance you've taken out with us online.
Be sure to read what is and isn't covered.
What is covered?
Expenses for
Medical care following a personal accident, for example

While performing household chores
While practising recreational sports
At school if you've also insured your schoolgoing children
While engaged in an unpaid hobby
While travelling for non-professional purposes
While travelling for personal reasons

Accommodation for a family member who stays overnight with the victim in hospital
Compensation in the event of permanent disability and death
Reimbursement of the funeral expenses
Personal accident insurance is valid worldwide.
Not insured
Accidents
Subject to the Belgian Workers' Compensation Act or corresponding foreign legislation
During participation in – including when training for – competitive full-contact martial arts such as boxing and kick-boxing, motorised sports, kite-flying, skiing, water skiing, snowboarding, skeleton and bobsleighing
Caused by you intentionally or through gross negligence (where you're aged 16 or over and have been using alcohol or drugs or similar)
The complete list of exclusions can be found in the general conditions.
What we reimburse as standard

Medical care and related costs such as suitable transport are insured up to 5,000 euros. Your own risk (deductible) is 50 euros.
If you suffer a degree of permanent physical disability of over 5%, you'll receive compensation of up to 50,000 euros, taking account the degree of physical disability. For each commenced bracket of disability of 5%, you'll receive 2,500 euros.

For example, if you have a degree of physical disability of 50%, you will receive 25,000 euros.
If it's 51%, you will receive 27,500 euros.
A permanent physical disability of at least 67% is equivalent to full disability, so in that case, you will receive 50,000 euros.

If you die within three years after the accident, your surviving relatives will receive 5,000 euros in financial support. We'll pay them a benefit of 5,000 euros. In addition, we will reimburse up to 5,000 euros for the funeral expenses. On the death of an insured child, we only reimburse the funeral expenses.
Double the sums insured with our VIP option

If you opt for our VIP option, we'll double all sums insured!
Example: medical care is insured as standard up to 5,000 euros. However, under the VIP option, we'll reimburse your medical expenses up to 10,000 euros.
The amount of your deductible with respect to the medical expenses and any related costs remains 50 euros.

We cover your children as well

If you insure your children, all your and/or your cohabiting partner's children and future children will automatically be insured as long as they still live with you. If they no longer live with you, they remain insured as long as they don't have an earned income or replacement income and are being supported by you or your cohabiting partner.


If you're not living with your partner, only your own children are insured.

If you also want to insure your partner's children, be sure to contact us.
Alternatives to personal accident insurance
Are you self-employed, a liberal professional or an SME?

What if you were unable to work due to illness or an accident and you lost your professional income? With KBC Guaranteed Income, you receive benefits to top up those paid by your health insurance fund every month. 

Good to know
This product is governed by the laws of Belgium.
The insurance in this policy applies for a term of one year and tacitly renews unless you terminate it no later than three months before the main renewal date.
Your intermediary is the first point of contact for any complaints you may have. If agreement cannot be reached, please contact KBC Complaints Management: Brusselsesteenweg 100, 3000 Leuven, complaints@kbc.be, tel. 016 43 25 94 (free of charge) or + 32 78 15 20 45 (charges apply), fax: + 32 16 86 30 38. If you are unable to reach a suitable resolution, you can contact the Belgian insurance industry's ombudsman service, who acts for the entire sector: de Meeûssquare 35, 1000 Brussels, info@ombudsman-insurance.be, www.ombudsman-insurance.be.
This does not affect your legal rights.
Please go to www.kbc.be, KBC Touch, KBC Mobile or contact your Insurance Expert to get a premium calculation for your personal accident insurance.
KBC Accident Insurance is a product of KBC Insurance NV – Professor Roger Van Overstraetenplein 2 – 3000 Leuven – Belgium
VAT BE 0403.552.563 – RLP Leuven – IBAN BE43 7300 0420 0601 – BIC KREDBEBB
Company licensed by the National Bank of Belgium, de Berlaimontlaan 14, 1000 Brussels, Belgium, for all classes of insurance under code 0014 (Royal Decree of 4 July 1979, Belgian Official Gazette of 14 July 1979).
Member of the KBC Group.
For a concise description of the cover, the most important exclusions and other information, please refer to the information document and the general conditions
File an accident claim?
With us at any time and how it suits you best.