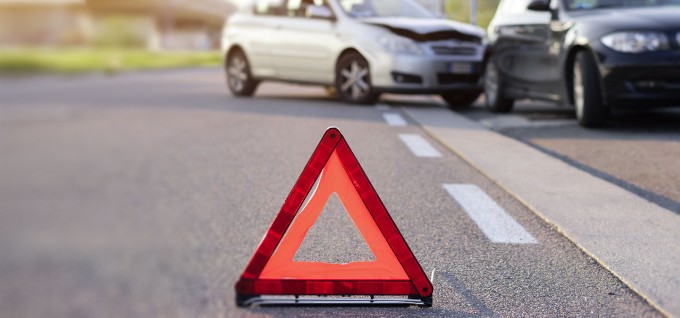 Car insurance
90% of our customers buy comprehensive insurance for their new car

Just bought a new car? We'll take care of the paperwork

Discount for safe drivers
Calculate and take out your insurance right away online
Why insure your car with us?
1. Even the best drivers can cause accidents. But don't worry; your premium won't go through the roof if you do.
We no longer apply a no-claims bonus system. Instead, we reward good drivers with benefits, such as a joker and a discount on their third-party liability insurance.
No-claims joker
KBC rewards you with a joker after not filing any at-fault claims for five consecutive years. If you do end up in an accident in which you were at fault, you can use your joker to avoid a premium increase. You can earn back your joker if you do not file any claims for five consecutive years and provided you were insured during this period. This way your premium stays the same in the unfortunate event that you are involved in an accident one time only.

Discount on your third-party liability insurance
Your good driving habits will also earn you a 10% discount on your compulsory third-party liability insurance. If you cause an accident but don't have a joker, this discount will be forfeited for a full year. You will receive the discount again if you do not file any claims for one full year.

2. If your son or daughter is learning to drive, they are covered as well.
Your car insurance also has certain benefits for your children as they learn to drive:
KBC Start2Drive cover allows you to include your children in your car insurance as they learn to drive. And no extra premium applies.
KBC MyFirstCar gives your children their own inexpensive car insurance in their own name.

3. Attractive lower premium if you drive less than 10.000 km per year
Since driving less reduces the risk of accidents, you pay a lower premium if you drive less than 10 000 km per year.
4. Life-long insurance guarantee: ensures that you remain insured later in life
If you're aged between 55 and 65, have been a client with KBC Insurance for five years or more and haven't had an accident in the last five years, you are entitled to our life-long insurance guarantee. You can rest assured that your compulsory third-party liability insurance will not be cancelled – even in the event of a claim.
5. Just bought a new car? We will take care of the paperwork for you
If you are taking out insurance for your new car, KBC will have your registration plate and all the papers, including the international motor vehicle insurance certificate ('green card'), ready in your car when you collect it from the garage. All you need to do is pick up the keys and drive off. Interested? Read more here.
6. Attractive lower premium for new cars
Since new cars are equipped with more safety features than older ones, KBC applies an attractive lower premium to all new cars. This applies to the premium for both fully comprehensive insurance and compulsory third-party liability insurance.
7. Work and take out your insurance online
Our handy simulator at the bottom of the screen lets you work out the price of your car insurance. You can take out cover online straightaway, without having to go to your branch, and with us, you're not on your own when it comes to claiming.
There's always a KBC Insurance agent in your neighbourhood who will be happy to help you with your claim. That includes insurance you've taken out with us online.
What cover can you take out?
1. The basics: compulsory third-party liability
If you want to drive your car on public roads, you are required to take out Third-Party Liability insurance as a bare minimum. This insurance covers any loss, damage or injury you cause to others if you are at fault. In such cases, any damage to your own car is not insured.
2. Extra protection with semi-comprehensive or fully comprehensive insurance
You can extend your car insurance for more protection with semi- or fully comprehensive insurance.
What's the difference between semi- and fully comprehensive insurance?
With our fully comprehensive insurance, you are insured for virtually any claim, unless it is included on the limited list of claims not covered by the policy. Our semi-comprehensive insurance covers most claim events not caused by you.
The following table shows a comparison of the most common forms of cover:
| | | |
| --- | --- | --- |
|   | Semi-comprehensive insurance | Fully comprehensive insurance |
| Glass breakage | | |
| Damage caused by forces of nature (e.g., hail damage) | | |
| Damage caused by collisions with animals | | |
| Break-ins, theft or attempted theft | | |
| Fire | | |
| Compensation for additional features if your car is declared a total loss (e.g., a set winter tyres or a roof box) | | |
| Repayment of the vehicle registration tax in the event of a total loss | | |
| At-fault accidents | | |
| Vandalism | | |
| Filling up with the wrong type of fuel | | |
| '10% extra' formula: In the event of a total loss or theft, the compensation is increased by 10% | Optional | Optional |
|   | View semi-comprehensive insurance | View fully comprehensive insurance |
3. Legal assistance
There's always the possibility that you'll end up in a dispute following an accident. In this case, our legal assistance insurance has you covered. For example, in the event of disagreement regarding the compensation by the other party or concerning repair work, the insurer will do everything possible to recover your loss or damage – either through out-of-court settlement or litigation.
4. Driver accident insurance
Did you know that, as a driver, you are not covered for any physical injuries you sustain in an accident if you caused it? The compulsory third-party liability insurance covers only the damage you cause to third parties.
This is where our driver accident insurance can help. If you sustain injuries in an accident you caused, your insurer will cover your medical expenses.
5. Roadside assistance and personal assistance
6. Car insurance for children with a provisional driving licence
If your child is learning to drive in your car, don't take any risks and include them in your car insurance. Your insurance premium will remain unchanged for a period of 24 months, while you benefit from an additional driver being covered under your insurance.
Good to know
KBC Vehicle Insurance may include one or more of the above forms of cover.

This product is governed by the laws of Belgium.
Insurance cover under this policy is valid for a term of one year and will be tacitly renewed, unless it is cancelled no later than three months before the principal renewal date.
Your intermediary is the first point of contact for any complaints you may have. If no agreement can be reached, please contact KBC Complaints Management: Brusselsesteenweg 100, 3000 Leuven, complaints@kbc.be, tel. 016 43 25 94 (free of charge) or + 32 78 15 20 45 (charges apply), fax + 32 16 86 30 38. If you cannot find a suitable solution, you can contact the Insurance Ombudsman, which acts for the entire industry, at de Meeûssquare 35, 1000 Brussels, info@ombudsman.as, www.ombudsman.as. 
This does not affect your legal rights.
To request a quote for KBC Vehicle Insurance, visit our website or contact your KBC Insurance intermediary.
KBC Vehicle Insurance is a product of KBC Insurance NV – Professor Roger Van Overstraetenplein 2 – 3000 Leuven – Belgium
VAT No. BE 0403.552.563 – RLP Leuven – IBAN BE43 7300 0420 0601 – BIC KREDBEBB
Company authorised for all classes of insurance under code 0014 (Royal Decree of 4 July 1979; Belgian Official Gazette, 14 July 1979) by the National Bank of Belgium, de Berlaimontlaan 14, 1000 Brussels, Belgium. Member of the KBC Group
Read this information carefully before taking out this insurance