Why is KBC Invest interesting for you?
1. A clear overview of your assets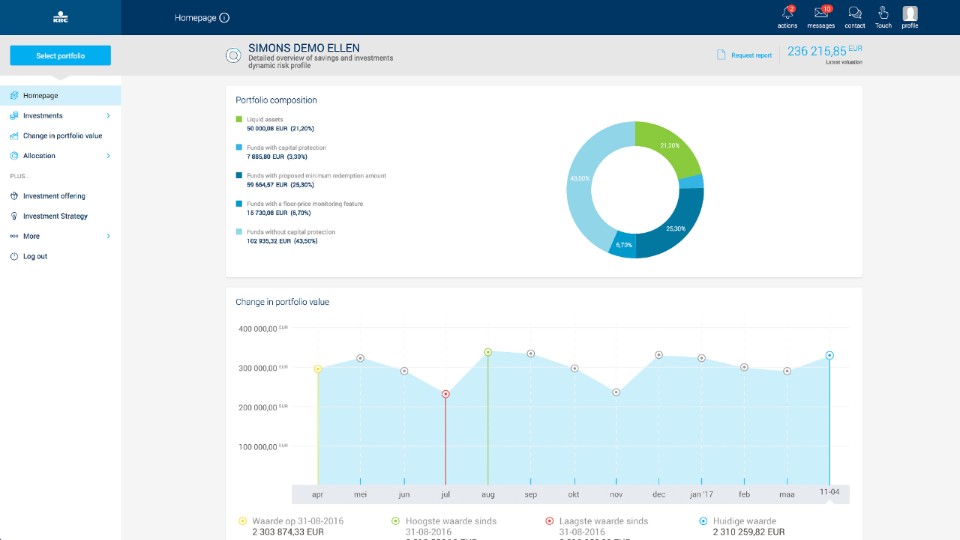 With KBC Invest, you constantly have a clear view of your investments.

It shows you at a glance how much your investment portfolio is worth and how the assets are allocated.

You can analyse each individual investment in detail thanks to product features, historical returns and price performances.
2. Always up to date
KBC Invest keeps you informed of events that are of importance for your investment portfolio. We alert you to all sorts of events, such as:

The financial and economic forecasts and how to respond to them

The products that are geared towards opportunities in the market

A monthly video of KBC's investment strategy

When an investment reaches maturity
3. Our experts at your service
With KBC Invest, you can ask questions without leaving your armchair. Our experts are there for you Monday to Friday from 8 a.m. to 10 p.m. and Saturdays from 9 a.m. to 5 p.m.
You can even sign transactions from the comfort of home. Our specialist will provide you with the documents in KBC Invest and you sign them without having to pop out.
Looking to get started with KBC Invest?
Contact a KBC branch or KBC Live and request access to the KBC Invest app. You can then log in quickly and easily on your desktop or tablet.  
What does KBC Invest give you?
KBC Mobile and KBC Touch only provide limited information on your investments. KBC Invest goes a step further with features including graphs and your purchase history.
Looking to get a clear view of your assets at a glance? In the start screen of KBC Invest, you can see how much your investments are worth, how they are made up and how they are performing.

Prefer looking at specific funds in a high level of detail? See the changes in the value of your portfolio, your investments and more besides in KBC Invest. You decide on the level of detail your investments are presented in.