Bye-bye card reader
With our KBC Sign app, there's no more need for a card reader to log in to KBC Touch and KBC Invest apps.
Completely secure
It even lets you log in securely over an unsecured Wi-Fi network.
Easy to use
Once activated, KBC Sign is the easiest way to log in to KBC Touch and KBC Invest.
Itsme is replacing KBC Sign in June
Get the benefits of itsme today.

Log in and sign as securely as with KBC Sign

Just need your phone

1 app to access us and 150+ other firms
Tax-on-web, mypension.be, Doccle, ...
What is KBC Sign?
Tired of having to rummage around to find your card reader? Batteries dead right when you want to make a transfer? Just can't be bothered entering all those codes? Make life easier for yourself with our KBC Sign app! Once activated on your phone, it's all you need to access KBC Touch and KBC Invest.
KBC Sign is our smartphone app that lets you securely log in to and sign transactions in a number of our digital services on a computer:
KBC Touch
KBC Invest
KBC-Online for Business
How do I get started?
Install the app on your phone (available on iOS and Android)

Download KBC Sign from your app store.

    2. Activate your KBC Sign app
Start the app and follow the on-screen instructions
Accept the applicable regulations and confirm your registration
Set a five-digit code for your KBC Sign app
Start using the app 
How do I log in without a card reader?
Log in to KBC Touch or KBC Touch using your KBC Sign app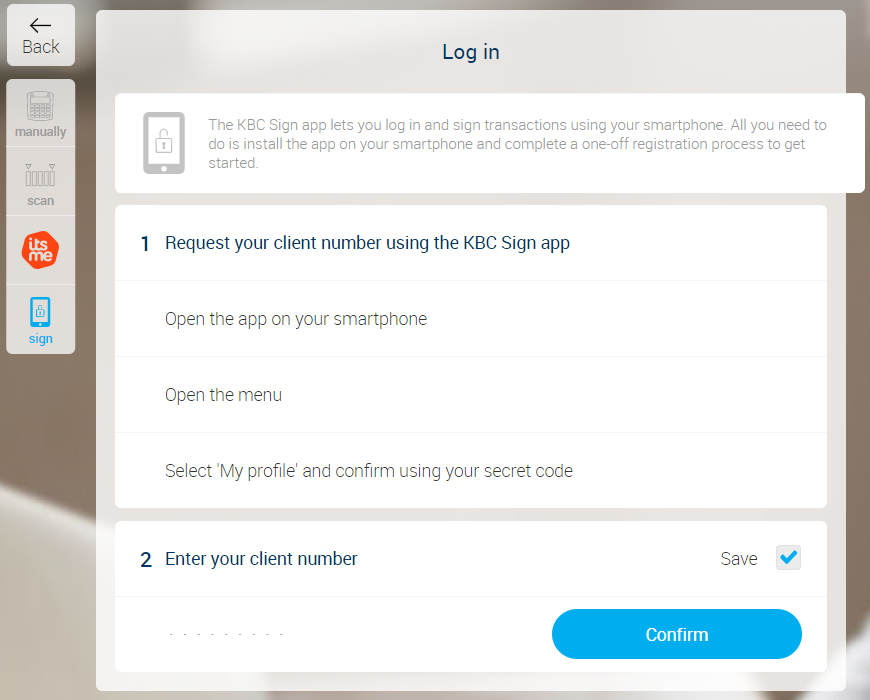 Go to the KBC Touch or KBC Invest login screen on your computer and select your username
Select 'sign' from the menu bar on the left
Open KBC Sign on your phone
Log in, scan the QR code and enter your KBC Sign app code
Get logged in and you're off
Confirm transactions the same way

Learn more