The we.trade platform and the KBC Trade Club online community offer an innovative answer by KBC to the main challenges facing businesses wanting to do business abroad. 'Our innovations always start from the needs of the client.'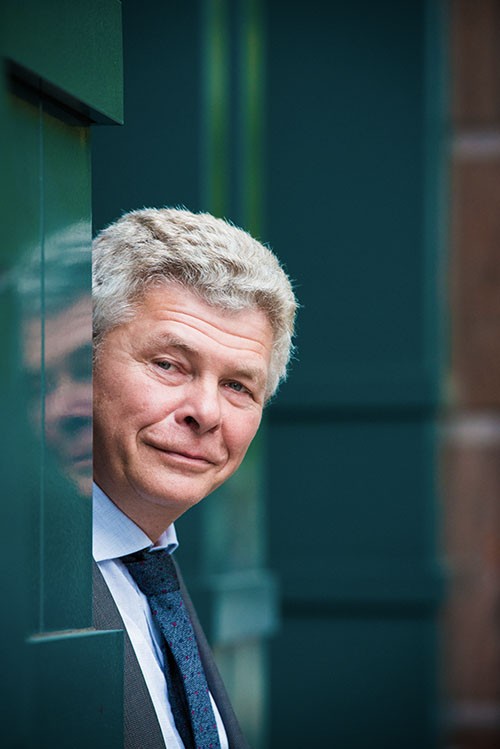 In a small economy such as Belgium, companies rapidly hit the buffers of their growth ambitions. But companies looking to extend their activities to other markets not only see their potential market and import opportunities grow massively, but also their challenges. 'The most obvious challenge when you're looking to get into foreign trade is finding the right partners', says General Manager Trade Finance at KBC, Hubert Benoot. 'Particularly in far-flung markets, it's difficult to assess the solvency of potential trading partners.'
A second stumbling block is the long sales cycle, and especially financing. Put differently, how do you ensure security of payment for your business when products spend a long time in transit and your trading partners are far away and unknown? 'A solution for this has been in existence since the 17th century', says Benoot. 'The documentary credit, or letter of credit.' A documentary credit works like this: the bank of the importer or buyer gives an undertaking to pay the exporter or vendor on production of the appropriate documents, such as an invoice or shipping document. This means the vendor is certain of receiving payment and the buyer only has to pay once everything is in order. Problem solved? Not completely.
Potato producer
'A documentary credit is still a perfect product for trading with distant markets, but for most Belgian SMEs it isn't a viable solution', says Benoot. 'It's a labour-intensive product. There's a great deal of administration and checking involved, which makes it complex and expensive for small and medium-sized businesses.' In addition, most Belgian SMEs mainly do business with neighbouring countries. A documentary credit is unusable for them: the goods arrive at their destination faster than the financial chain can follow.
There is currently only one alternative to a documentary credit: prepayment. But that's not an obvious solution when you're doing business with unknown trading partners.

We are exceptionally proud that this major innovation started in response to an issue voiced by one of our clients.
Hubert Benoot - General Manager Trade Finance at KBC
'Some time ago I was talking to one of our clients, the potato producer Remo-Frit', recounts Benoot. 'The client told me that the ideal solution would be a sort of pay button, a means to enable his client in France to pay for a potato delivery by simply clicking on a button. That would provide certainty for him and for the client.
'That set KBC thinking. Until a few years ago, a pay button like this was not possible: you always needed a neutral intermediary to ratify the process and guarantee that it was secure. 'But blockchain technology makes that intermediary superfluous', says Benoot. We use the technology to guarantee security and transparency.

we.trade
KBC got to work, and in 2016 launched a first pilot project: the Digital Trade Chain, a platform that digitalises the entire sales cycle, transparently and securely. How does it work? Simple: the buyer generates an order form, which the vendor can then accept on the platform. When the order is accepted, a smart contract is generated, setting out the payment terms. From that point on, the entire sales process is digital (track & trace principle), from shipment of the goods to compilation of the invoice. Once the payment terms have been met, the buyer's bank transfers the funds to the vendor's bank.
Digital Trade Chain was received enthusiastically by businesses and in 2016 received an EFMA award for the best innovation in the financial sector. The award also prompted other banks to jump on the bandwagon. The pilot project was turned into a fully fledged platform: we.trade is now supported not just by KBC, but by seven other banks in a variety of countries: Banco Santander, Deutsche Bank, HSBC, Natixis, Rabobank, Société Générale and UniCredit. Based on a closed blockchain, these banks work together to guarantee security.

We are convinced that our innovation stimulates growth in international trade.
Karen Sterckx - General Manager KBC Corporate Banking
we.trade will go live for KBC clients in the spring of 2018. 'The benefits are enormous', says Benoot. 'As the platform is accessed via the participating banks, all users are checked. The banks can also link additional services to the platform, such as guaranteed payment or finance through payment deferral.' But the biggest benefit of we.trade is that it makes exports possible without prepayment. That offers enormous prospects', emphasises Benoot. 'We think this could become the new market standard for European trade.'
Tinder for companies
Even before the official roll-out of we.trade, at the end of this year KBC will unveil another innovative platform: KBC Trade Club, a dating community for companies that are looking for buyers or suppliers abroad. A sort of Tinder for companies. It's logical that KBC is launching this platform for its business customers first, because before you can trade securely and smoothly with a partner in another country, you first need to find a suitable and reliable trading partner.

KBC Trade Club is actually an initiative of the Spanish bank Banco Santander, which launched the platform in its home markets. But the more countries that sign up to the platform, the bigger the community and the greater the benefits for the member companies. 'That led to the goal of finding a banking partner for every relevant market', says Benoot. 'For example, Nordea has been chosen as the partner for the Scandinavian countries, and KBC for Belgium.
'The way the platform works reads like a cross between LinkedIn and Tinder. Users create a company profile in which they briefly describe their activities and the kind of partners they are looking for. After being checked by the community manager, profiles are matched by an intelligent algorithm. In addition, every user also receives a tailored proposal from the community manager. 'You can of course also go in search of interesting profiles yourself.' Users can the proposed partners. When a match is found, contact details are exchanged.


Karen Sterckx, General Manager at KBC Corporate Banking, adds: 'This platform provides genuine added value for our business clients. Because as well as the extensive community, KBC Trade Club also offers another important benefit. The platform contains 23 000 pages of relevant trade information on the participating markets, from customs rules, VAT rates and import duties to market statistics and logistical information. Clients we have told about it were immediately very enthusiastic.'

Blockchain tailored to the needs of the client
Back to the potato producer 'His problems have now been resolved', says Benoot. 'He can first go in search of new customers via KBC Trade Club, and with we.trade he will soon have a fast and secure way of tracking and settling international trade transactions.
'The potato producer is not an exception, stresses Benoot. 'We are of course not the only financial institution that is working on new technologies and innovation. But we do things differently. Other firms ask questions such as: What is blockchain? What can we do with it? We do it the other way round, starting with the question: What does the client want? Once we know that, we look at what blockchain can do for the client. It's an approach of which we are especially proud.' Sterckx also confirms that this is something that companies are waiting for. 'We are convinced that these innovations will only stimulate growth in international trade.'

More
'Clients can first go in search of new customers via KBC Trade Club, and with we.trade they will soon have a fast and secure way of settling international transactions.'
Want to know more about what KBC Corporate Banking could mean for your international growth plans?