It could well be that you believe that industrial accident insurance is enough given how it takes care of the financial consequences of a claim. But have you spared a thought for safeguarding property and life by going all out on accident prevention? We don't mean either/or, but there is an ideal combination of the two.
Bespoke prevention
Prevent loss of profitability, legal action and human suffering. Sounds good, doesn't it? This needs a shift in the attitude to safety and corrective measures with the help of KBC Corporate Insurance. We work together with you according to the risk management model, which considers aspects of all the procedural steps in a health risk management system, before the accident and after the damage. This model identifies your needs and requirements and allows you to work results-orientated and constantly make fine-tune adjustments.
Risk management model
Identifying risks: we screen your company and how your internal health, safety & security department works. Then you get a report with the priorities, practical tips and advice for preventing accidents.
Limiting and managing risks: KBC's Health, Safety & Security Adviser gets together with you, and perhaps your health, safety & security department, to look at the best measures to adopt in your accident prevention scheme.
Cataloguing damage: the KBC Accident Manager electronic tool enables you to record and manage (industrial) accidents.
Mitigating loss: don't forget your staff and their nearest and dearest. Help them through the reintegration process and limit temporary disabilities using KBC's victim guidance.
Analysis and adjustment: listen to the numbers. Using accident prevention statistics, we look together for a solution to improve your loss statistic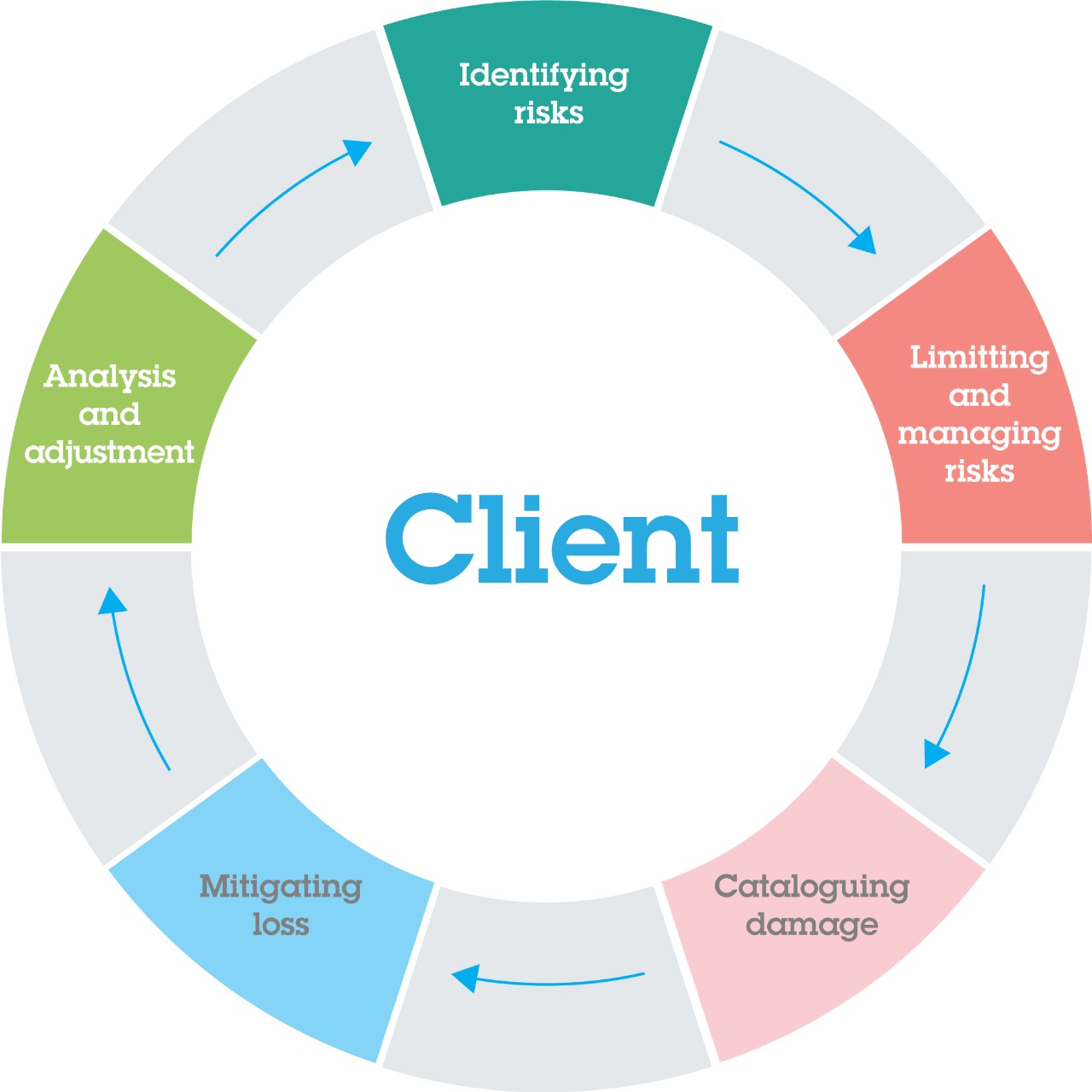 A compulsory insurance for work-related accidents
Little accidents can have big consequences. Which is why you're obliged by law to take out industrial accident insurance for all your staff. It covers things like the medical expenses or loss of income when an employee has an accident at work or on the way to or from work. All in all, it protects both your business and your workers.
What's insured?
The costs of medical care after an accident
Compensation if an employee is temporarily unable to work
Compensation if an employee is left permanently work-disabled following an accident
Compensation when others have to provide your employee with assistance
Compensation for the employee's surviving relatives if the employee dies: the funeral expenses, a lifelong annuity for the spouse, and an annuity for the children for as long as they are entitled to child benefit
What's not insured?
Material damage, such as damaged clothing
Non-pecuniary loss
Guaranteed wage period
You have to continue to pay your employee during the first month following an accident and your industrial accidents insurer will then reimburse you those costs. However, please note that the reimbursement is limited
to 90% of the basic wage.
The portion above the statutory wage ceiling for industrial accidents and the employer's social security contributions are not reimbursed
Limitations of the industrial accident cover
Under the industrial accident cover, reimbursement of medical expenses is limited to the rate set by the National Sickness and Disability Insurance Institute (RIZIV). Furthermore, all compensation is capped. If you want practically all medical expenses to be covered and compensation to be based on your employees' full wage, you should consider taking out supplementary industrial accident insurance.
Good to know
Belgian law applies to this policy.
The types of cover in this policy apply for a term of one year or three years. The policy will tacitly renew on the renewal date for successive terms of the same duration as the initial term that is contracted unless the policy is cancelled no later than three months before the principal renewal date. 
Your intermediary is the first point of contact for complaints. If no agreement can be reached, please contact KBC Complaints Management, Brusselsesteenweg 100, 3000 Leuven, complaints@kbc.be, tel. 016 43 25 94. If you cannot find a suitable solution, you can contact the Belgian insurance industry's ombudsman service: Ombudsman van de Verzekeringen, de Meeûssquare 35, 1000 Brussels, info@ombudsman.as, www.ombudsman.as. You always retain the right to initiate legal proceedings.
Contact your KBC insurance intermediary to request a quotation for compulsory industrial accident insurance under the KBC Commercial Insurance Employee Cover.
KBC Commercial Employee Insurance is a product of KBC Insurance NV – Professor Roger Van Overstraetenplein 2 – 3000 Leuven – Belgium
VAT BE 0403.552.563 – RLP Leuven – IBAN BE43 7300 0420 0601 – BIC KREDBEBB
Company authorised for all classes of insurance under code 0014 (Royal Decree of 4 July 1979; Belgian Official Gazette, 14 July 1979) by the National Bank of Belgium, de Berlaimontlaan 14, 1000 Brussels, Belgium.
A member of the KBC Group
More info
Are you aware that there's hardly a company that has little or no experience of accidents? And do you share the view that prevention and active risk management are worth it? If so, contact your relationship manager for more information on preventing and insuring against industrial accidents.