On 28 September 2022 our Digital Sustainability Conference hosted by KBC Securities took place. 
This year our conference consisted of one webinar and two panels from experts and executives guiding you through the following topics:
Webinar: Non-financial reporting in light of the EU Disclosure Regulation (9h-11h)
Companies are increasingly experiencing pressure from stakeholders such as regulators, investors, citizens and financial institutions to report on non-financial information. In this context, we will:
Take a closer look at the EU disclosure regulation
Provide you insights in how to get started on this reporting, including challenges and best practices. 
Discuss the role of auditors and financial institutions in the context of this new regulation.
Speakers:
Marc Daelman, Partner of PricewaterhouseCoopers
Luc Van Goethem, Sustainability Disclosures Policy Advisor at KBC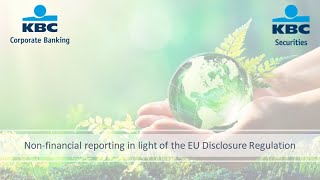 https://www.youtube.com/watch?v=QXcIPleh42U
Read our presentation
Panel 1: Belgian offshore wind in changing energy markets (13h30-14h45)
The challenge of tackling climate change and the recent Russian energy supply disruptions have emphasized the importance of renewables. The panel discussion will:
Address the key developments and challenges in the offshore wind sector amidst turbulent energy markets and changing support schemes.

Focus on the Belgian market, which has been a frontrunner in the European offshore wind sector.
Share insights on how different stakeholders including developers, investors, grid operators, governments and banks look at future offshore wind projects.
Panelists:
Aymeric Kormoss, Energy Portfolio Manager at Virya Energy
An Stroobandt, Deputy Head of Cabinet of Federal Minister Energy
Bert Derudder, Senior Manager Project Finance at KBC
Kristof Sleurs, Head of Grid Development at Elia
Moderated by:
Thomas Chellingsworth, partner at Loyens & Loeff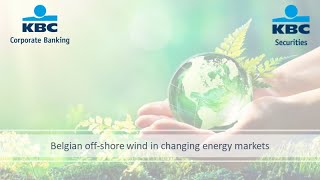 https://www.youtube.com/watch?v=fcQEbMD4eB0
Panel 2: Export Finance & Sustainable Finance: the UN SDGs (15h00-16h00)
The Sustainable Development Goals (SDGs) were adopted by the United Nations in 2015 as a universal call to action to end poverty, protect the planet, and ensure that by 2030 all people enjoy peace and prosperity. Through testimonials by two of our corporate customers and KBC Export Finance, we want to:
Demonstrate how the SDG's can be used in evaluating export of capital goods related transactions from an ESG point of view. 
Inspire all companies to implement the SDG's into their strategy and activities. Whereas the webinar will focus on export finance transactions.
Panelists:
Vicky Haubourdin, Senior Manager Export Finance at KBC
Amélie Matton, CEO at Ecosteryl
Tom Vandekerckhove, Managing Director at Water Experts powered by BOSAQ
Moderated by:
Lien Weekers, KBC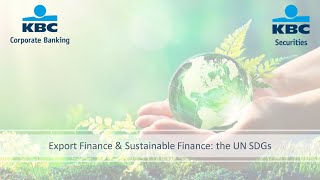 https://www.youtube.com/watch?v=puTnvINPhoM