In order to grow Deceuninck sometimes needs new factories, close to its clients. A good relationship with an international banker is therefore not an unnecessary luxury.
'Deceuninck does not in fact manufacture windows itself,' CEO Francis Van Eeckhout notes early on in the discussion. 'Our clients do that. We develop the product and deliver the profiles, in PVC, and more recently also in aluminium. But because these profiles have such a bearing on the quality, the windows are often marketed as 'Deceuninck' windows.' 
Deceuninck, with its headquarters in Hooglede-Gits near Roeselare, therefore specialises in the development of window profiles and leaves the production of the windows to its clients. And that is intimately related to the complexity of the production processes, in which the company now has over 50 years of expertise.
In Europe the West Flemings have integrated factories, specialising in extrusion – the basic production process – and finishing activities – the addition of colour or wood imitation foil to the profile by means of adhesion or coating. Deceuninck produces virtually all its moulds itself, makes its own raw materials (compounding) and recycles old windows and leftovers from the production process. 'We are continually innovating our processes, such as the incorporation of glass fibre into our window profiles or PVC window profiles with an aluminium shell on the outside and wood chips within.' In Turkey Deceuninck has three brands at the top end of the market; for extrusion, adhesion and compounding the company has two very large, modern plants.
You can discuss local matters locally, while in Belgium you have a contact person for the big picture.
Francis Van Eeckhout, CEO Deceuninck
Close to the customer for speed and flexibility
'Centralised or decentralised production? We are continually weighing up the pros and cons,' explains treasury manager Bert Castel. 'Our customers expect us to deliver their orders within three days or at most a week. You can only do so with a local presence. And why wouldn't we have one? Producing everything on a centralised basis makes no sense: the benefits of scale are limited, as each region has different window systems, apart from which you then face extra transportation times and costs.'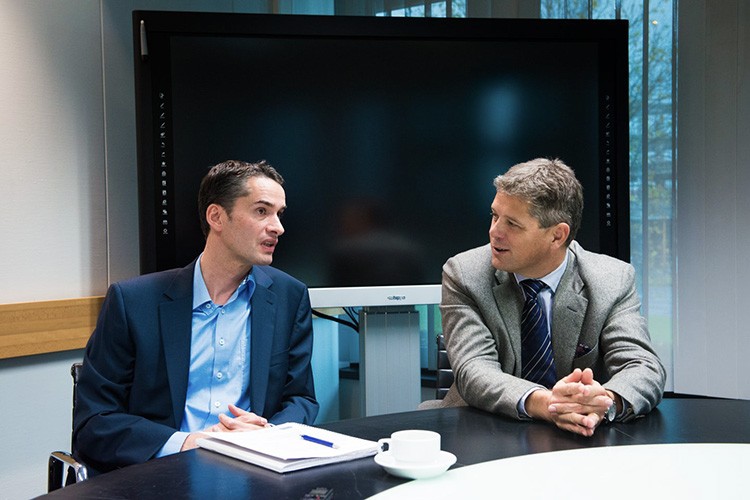 When Deceuninck was recently confronted by a strong growth in US demand, the company decided precisely for that reason to invest not in the expansion of its factory in Ohio, in the eastern part of the US, but in a new plant, 3 000 kilometres to the west in Nevada. Van Eeckhout: 'In the US there are pronounced climatic variations and differences in the culture of building. Take for example areas prone to hurricanes. There are corresponding market differences. The idea of the new plant is to be close to our new clients and specifically to respond to their wishes.'
'In terms of the financing we first of all surveyed the market,' states Bert Castel. The obvious course of action was traditional bank finance, but Deceuninck also wanted to examine other options. 'After thorough evaluation we ultimately arrived at a KBC real estate leasing formula: an asset-based form of financing that scores in terms of pricing and structure. Furthermore KBC is represented in the US by a team of specialists in this field – a not unimportant factor for us. KBC owns the land and the building, while we have an option to buy, which we can invoke after a certain period of time once we consider that the factory is generating sufficient revenue. In the meantime we are paying rent.'
Double relationship
The talks with KBC concerning Nevada went smoothly, since KBC also has a branch in New York. 'You could call it a double relationship,' says Castel. 'We are in touch with our American colleagues, as is KBC. And Deceuninck US stays in touch with KBC US, in the same way that we regularly go through the file with our relationship manager here. It looks complicated, but it's the exact opposite: it's just that lots of people are involved and they are all working on a single file.'
'Call it a benefit of working with a bank having an international network,' Van Eeckhout continues. 'You can discuss local matters locally, while in Belgium you have a contact person for the big picture.'
Needless to say the new plant will also need working capital, but for Deceuninck this tends to be a routine matter. 'Most of the branches are financed by head office,' states Castel, 'in the form of intercompany loans. That means that we raise all the funds we need for the group as a whole at central level. This creates room for diversification in financing.'
For Deceuninck sound financing always consists of a mix of solutions. In 2015 the company took advantage of the low market interest rates, the increased public appetite for corporate bonds and the regained trust in Deceuninck in order to issue a retail bond for 100 million euros – an ideal arrangement for funding projects such as that in Nevada. 'A retail bond of this kind is, however, very rigid,' Castel observes. 'Once it's in place, the rate of interest or term are no longer open to discussion. A real estate lease is also reasonably rigid. At the other end of the spectrum, factoring and bank finance are the most flexible. Depending on the circumstances we will sometimes lean more towards one of these solutions, and at other times more towards the other.'
Solutions tailored to the company
KBC has long been a partner of Deceuninck's and is close to the company. That is certainly conducive to flexibility. 'I've been here for seven years,' states Castel, 'and in all that time I've only known KBC to be one of our principal bankers. In recent years we have built up an open, long-term relationship with all our principal bankers, so that we can work on the basis of mutual trust.' Van Eeckhout also feels that KBC has confidence in the company. 'They always come across as flexible and willing to please. You feel that they are from over here and also understand the people, the emotions and the history. That creates a bond, which is highly important; in this way they are also able to offer solutions tailored to the company in highly complex situations.'
Also looking for solutions?