Everyone agrees that we need more renewable energy, but getting new wind turbines built can be a far from easy process in Belgium. The Storm cooperative tackles this issue by combining the development of wind projects with participation by local people. In Lokeren, for instance, Storm has installed four wind turbines in collaboration with 263 residents and with support from KBC. 'Local residents participate in the funding, but KBC's support is vital to getting our wind farms built', CFO Kristof Moens says.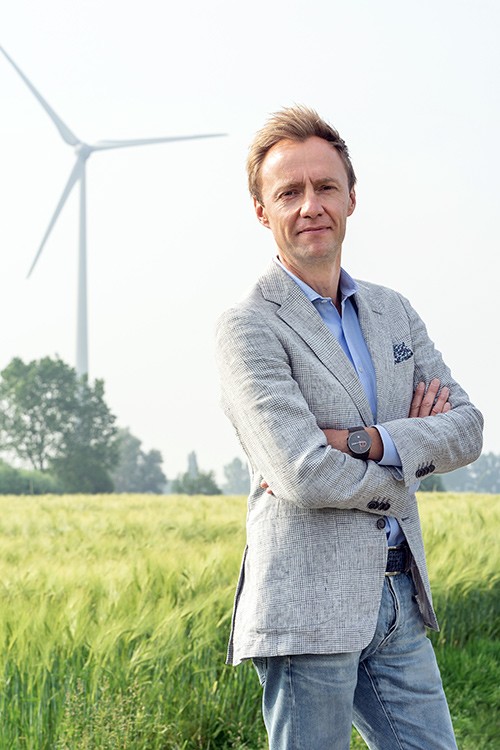 Building a wind farm doesn't happen overnight: a prolonged licence-application procedure normally has to be completed, the outcome of which is uncertain. The facility can have an impact on local residents, which frequently provokes resistance. For that reason, the Storm cooperative seeks to achieve broad local support by actively involving residents in the project: 'People who share in the costs can also reap some of the benefits via the cooperative', Kristof Moens explains.
Storm currently has wind turbines in operation at 13 locations. Wind farms are being constructed at two sites, and licences have been requested for another 15. 'It's still not easy to get a licence for a wind turbine in Flanders. The risks are greatest during the development phase: once that initial stage is complete, local people can get involved. In the end, 263 Lokeren residents chose to invest, enabling us to raise just over half a million euros', Kristof Moens says.
Not everyone can become a shareholder – the privilege is reserved for local residents. 'Whenever we build a wind farm, local people are given the opportunity to become shareholders. We hold an information meeting to explain our project and the overall procedure. One share costs 125 euros and you can buy a maximum of 24. The money raised is then invested in the local wind farm via a subordinated loan.'


The importance of KBC experts
On a sunny day, with the mighty blades of the four Lokeren turbines rotating overhead, the CFO also looks back with satisfaction at the collaboration with KBC. 'In principle, you could also fund a wind farm without the input of the cooperative. That would be the cheapest way to realise the project, because the return we pay the cooperative is substantially higher than the interest on bank finance. But we deliberately don't do that, because we also want our wind farms to be anchored locally via the cooperative. KBC's funding, meanwhile, meant that we could tackle several projects at the same time. It gave us more financial breathing space.'
Kristof Moens has first-hand experience that KBC is a bank with extensive know-how when it comes to funding renewable energy projects. 
There are knowledgeable experts at KBC, who know how to set out their funding model in a clear way. The people there were very correct and transparent throughout the negotiations too. What's more, the team we worked with adopted a very proactive approach. We've got to know each other very well and they have become a real partner who helps us achieve the right solution."
The company will therefore be looking to KBC again as a potential financial partner for the development of future wind farms. 'We're ambitious: we aim to build 40 new wind turbines in the next two years. There will be an invitation to tender to decide which bank is the most interesting for us, but I'm pretty sure that KBC will come up with another competitive offer', Kristof admits.
Attractive return
Storm has proved to be a profitable investment for its 2 631 members: the cooperative paid out a 5% dividend at the end of June. 'Our wind farms are performing as forecast. That means we can meet our financial obligations for the loan fairly easily. The decision was therefore taken within the cooperative and at the general meeting to pay out a 5% dividend for the third year in a row. That falls right in the middle of the 4–6% range envisaged at the beginning', Kristof Moens concludes.

Learn more?