This is what you need to know about your charge card
To charge your electric vehicle in Belgium or elsewhere using public charging e points or fast-charge points on the motorway, you require a charge card. Charge cards usually look like debit cards. Sometimes they're also available as badges or keychains. 

What is a safe and efficient way to charge my electric vehicle?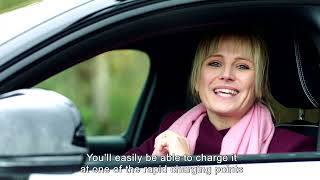 https://www.youtube.com/watch?v=F9MT__FYvYk
How do charge cards work?
Connect the charging cable to the charge point and your electric vehicle
Hold your charge card against the charge point's card reader*
Your charging session will now start
To end the charging session, hold your charge card against the charge point again
Your charge card contains an RFID chip, and all public charge points have RFID readers. You can start your charging session by holding your charge card against the card reader. RFID is an acronym for Radio Frequency Identification.
Where are charge cards available?
Just like there are mobile phone providers, we also have providers of public electric charging solutions, known as Mobility Service Providers (MSPs). They offer charge cards that provide access to a network of charge points, which are installed and managed by Charge Point Operators (CPOs).
Since the charging infrastructure is owned and operated by a variety of operators, these operators have agreed to integrate their charge points into a single network. This means that you, as a driver, can use charge points operated by a number of different providers. 

How much does a charge card cost?
If you have a complimentary charge card, you generally pay the price per kWh set by the operator of the charge point.
If you have a subscription-based charge card, you usually pay a fixed price per kWh, which does not depend on the kWh rate charged by the charge point operator. The monthly subscription fees start at 3 euros. 
How much do I pay for a charging session?
The providers set the total amount for the charging session. The costs are usually determined by three factors:
The starting fee, i.e. the fee you pay to start your charging session. Be sure to check if your provider charges this fee.
The price per kWh. Be sure to check the rates charged by providers. Charging your vehicle using regular public charge points in cities or multistorey car parks (with a charging capacity of up to 22 kW) is significantly less expensive than using fast chargers on the motorway (with a charging capacity of 50 kW or more).
The duration of your charging session. Some providers charge additional costs per minute, while others charge idle fees (also known as occupancy fees) for continuing to be plugged in after charging your car. 
How do I pay for my charging sessions en route?
As soon as you've finished your charging session, the charge point operator automatically charges you a fee and you will be billed monthly (includes a list of your charging sessions). If you drive a lease car and are using a charge card provided by your employer, you will obviously be billed through your employer. 
Here are some important things to keep in mind when choosing a charge card:
What are the monthly fees for a charge card, and what are the fees per charging session?
What networks can I access with my charge card in Belgium and elsewhere in Europe?
Are there enough charge points available on the routes I use frequently?
And can I use fast chargers (on motorways)?
Can I use an app to check the location, availability and prices of charge points?
Does the charge card double as a fuel card? 
Tips: 
Make sure your charge card works for the charge points you will be using most often
Get at least two charge cards, so you will always have a back-up if your regular charge card is not working
More info