Flanders' exports amounted to more than 300 billion euros in 2016, an all-time record. This confirms again how much our economy relies on foreign growth. It is not only exported goods and services that are increasing; more and more companies are also looking for opportunities to invest in locations abroad. Logistics group Katoen Natie can serve as a role model in this regard: "Since the mid-1990s, we have taken our concept of value-added logistics abroad: first to our neighbouring countries and then also elsewhere in the world. In KBC, we found a partner that can develop tailored financing solutions", says CFO Dirk Michielsens.

Fernand Huts has led the Katoen Natie Group since 1981. He turned a company that was firmly embedded in the Port of Antwerp into a logistics group with worldwide operations. Dirk Michielsens: "In 1994, 60% of our turnover came directly from our operations in the Port of Antwerp. Today, this is less than 1%. Katoen Natie now operates in 33 countries with more than 13,500 employees generating a consolidated turnover of 1.7 billion euros.
"The figures speak for themselves. They are mainly the result of hard work and a strategy based on international growth. "Our company has been much more than just a logistics player for a long time now. In the late 1980s, we developed a silo concept in Antwerp to optimise the supply chain in the petrochemical sector. It was a revolutionary concept at the time. It was the first step towards the development of value-added services." 
"Many factory-produced plastics are stored in silos by means of pneumatic transportation, either on the factory's premises or on ours. We take care of the bulk packaging, big bags or whatever packaging the final customer wants us to provide and we apply all possible treatments on behalf of the client", explains Dirk Michielsens. "This has allowed the petrochemical companies to respond to the needs of their clients in a much more flexible way. It has also given them economic and financial benefits. The petrochemical industry eventually asked us to apply the same system for them elsewhere in the world as well." 
Because KBC knows us so well, they needed only a few words from us to know what to do."
Dirk Michielsens - CFO Katoen Natie
Engineering as USP
That is how the petrochemical sector became the driving force behind Katoen Natie's internationalisation. "We have a very strong process engineering department, specialising in coming up with solutions to complex problems in industrial companies' supply chain. We combine our expertise in goods flows with our engineering know-how. For example, one of our clients in the fine chemicals industry wanted to export a liquid product to Japan. Because of the volumes, the transport costs were an obstacle. Our R&D succeeded in converting the product into a powder, which made it easier and cheaper to transport and ended up making Japan a feasible new market for our client."
Katoen Natie now does the same for many other industries in this country and abroad. It all started in the mid-1990s with its first location in France. Dirk Michielsens: "We were considering conventional investment credit to finance our French projects, because real estate leasing or 'Crédit Bail' did not seem a workable solution to us. However, when we discussed this with the people at KBC in Belgium and France, they developed a number of flexible solutions that were tailored to our funding requirements and made real estate leasing possible. This was the start of many years of effective collaboration." 
Quick decisions are crucial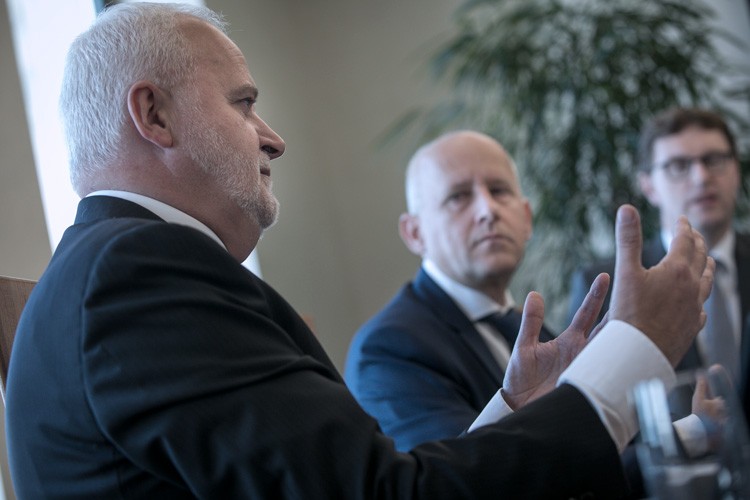 Katoen Natie and KBC have developed an intense relationship over the years. "Our financial services are actually fairly modest. We do not want to discuss credit for months on end. We simply do not have time for that", says CFO Dirk Michielsens. "KBC's strength lies in its ability to make very fast decisions. Because of our many years of collaboration, the bank knows what we stand for and what we want. And we are also perfectly aware of what the bank needs in order to decide on a financing issue. This creates a partnership that allows us to work efficiently." 
This was also proven by a project in Singapore. Dirk Michielsens: "Our initial view was: what we can finance with local banks, we will handle locally. However, because of our fast growth and all the local red tape, we turned to our preferred bank KBC. This allowed us to quickly finalise the process of financing 44 million Singapore dollars. Because KBC knows us so well, they needed only a few words from us to know what to do." 

KBC: your local bank, anywhere in the world
KBC's international operations focus on the export markets where Belgian companies already have a strong presence: neighbouring countries Germany, France, the Netherlands and the UK, but also New York in the US and Hong Kong, Shanghai and Singapore in Asia. A local branch opened in Milan recently. Jan Van Hove: "We have noticed that Italy is an important destination. One explanation is the large Italian community in Belgium and another reason is that many companies also regard Italy as an effective gateway to North Africa and the Middle East. That is why we have strengthened our approach with a new branch in Milan."
More information