Growing means changing. In order to produce its own interactive technology products, school equipment specialist Vanerum had to devise a new business model and to touch down in Asia.
It had already long been manufacturing the boards and furniture itself. When the schools also began introducing technological products in the classroom, the Vanerum Group initially simply procured these from leading world brands. In the case of the boards and furniture, however, demand is very much locally driven and international growth is not an obvious prospect. Technological products, by contrast, lend themselves well to 'globalisation'. For this reason the Vanerum Group placed the rapidly growing operations in a separate division.
'I did notice that we were unable to respond sufficiently with our partners to the specific local needs,' explains CEO Gert Van Erum. 'It was therefore decided to invest in a separate technology brand – i3. As with all forms of technology this is of course a mix: we design the product and then we buy products or parts in Asia which we assemble here.' Heavy investments have been made in this separate brand over the past five years and the division is mushrooming, 'particularly since we were able to come up with a number of attractive innovations.'
New business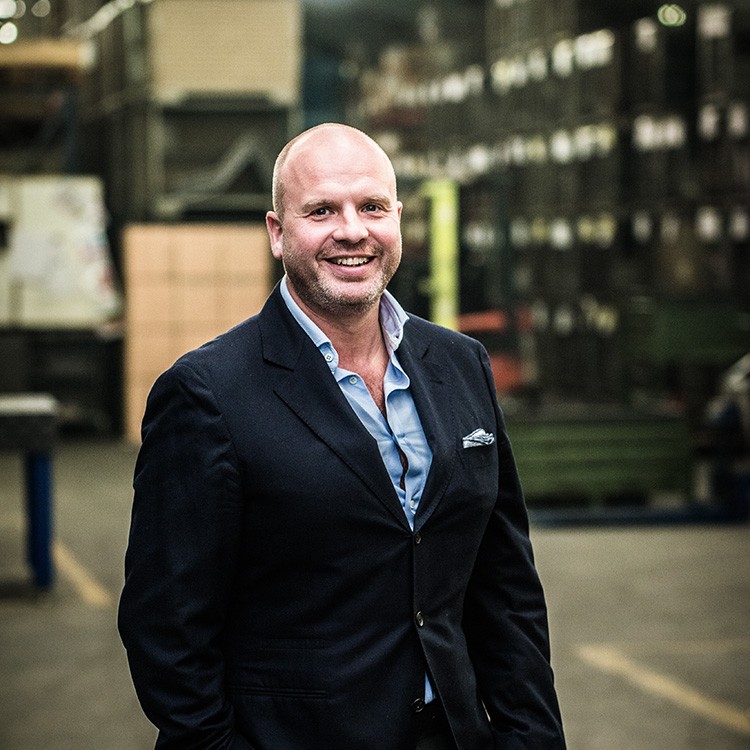 The Vanerum Group has consequently changed radically over the past five years, to the point of even changing its name to i3-Group. 'The manufacture of school furniture in Belgium was along fairly traditional lines and, while we exported, we didn't venture far afield. Nowadays we are involved with high-tech activities and the world is our oyster.'
The decision to produce the technological products themselves forced the i3-Group to revise its entire business model. 'Previously I used to buy a projector in Germany, take delivery a day later and then have 30 days to make payment. These days I draw up a forecast in Asia, four to six months in advance. We need to procure parts, assemble products, ship them, and so on... We therefore need to bridge a process spanning several months – a huge difference from that projector that we could order just like that.'
The working capital requirement therefore changed totally, and that at a very difficult time. For in 2012 KBC had just refinanced a management buyout for the i3-Group in order to inject private equity into the capital. 'It was not an easy time. They really needed to get alongside us at that time.'
Partner in Hong Kong
But it's at difficult times that you really get to know each other. At no stage therefore was Van Erum ever anxious. 'They always listen,' he says of his partners at KBC. 'I never had the feeling that they might not be with us.' When Van Erum himself had to seek out suppliers in Asia for his i3-products and set up a sourcing office in Hong Kong, KBC did not have to follow, as the bank was already there.
And that worked out well. Local KBC people helped from the outset to set up the sourcing office. 
If you say in Hong Kong that "I need to set up a company here and would like to recruit some staff", they will say "Ring so and so, and see what they have to say. And to get you started here is an account number." That makes you feel really comfortable.
Gert Van Erum, CEO Vanerum Group
According to CFO Pieter Vervinckt KBC's presence in Hong Kong even helps break down barriers. 
The network and the support they offer make it a good deal easier to get an activity off the ground there.
Pieter Vervinckt, CFO Vanerum Group
Local account
Vervinckt also values the ease of working with that Hong Kong account: 'The account is simply included in the online system we use to do other things as well. All I need do is open my laptop here and I can make payments in Hong Kong. It's as simple is that. Not that we are dealing with a great many payments.'
The account is designed primarily to facilitate the running of the office. The local people have to be paid and the branch of course has its own expenses. And from time to time goods are procured via Hong Kong which then have to be paid for locally. 'But that's just about it. If we had local credit requirements these could also be solved, but then we don't have any. The entire financing of the i3-Group takes place centrally, at head office.'
On account of the much longer production cycle, the financing arrangements have also changed greatly. 'KBC worked on these with us. Letters of credit have become standard fare: in this way KBC guarantees our suppliers that they will in fact be paid upon delivery. In addition we have special credit lines to finance the purchases.'
KBC knows us
According to Gert Van Erum the fact that the principal banker was prepared to follow so effectively, even when major changes were made, has a lot to do with the continuity of the contact persons. 
They simply know us well. They are familiar with what we're doing.
Gert Van Erum, CEO Vanerum Group
Van Erum has never felt anxious. 'They always listen,' he says of his partners at KBC.
Can we get to know you?