IBA, or Ion Beam Applications, is the world leader in proton therapy, a form of radiation treatment which targets cancer very specifically. The company, based in Louvain-la-Neuve, in Belgium, sells solutions (including cyclotrons) to hospitals worldwide. The highly advanced apparatus is built in gigantic underground bunkers; a particle accelerator alone can easily weigh in at between 50 tonnes and 200 tonnes. Exporting this equipment is not only a logistical challenge, but also a major financial undertaking.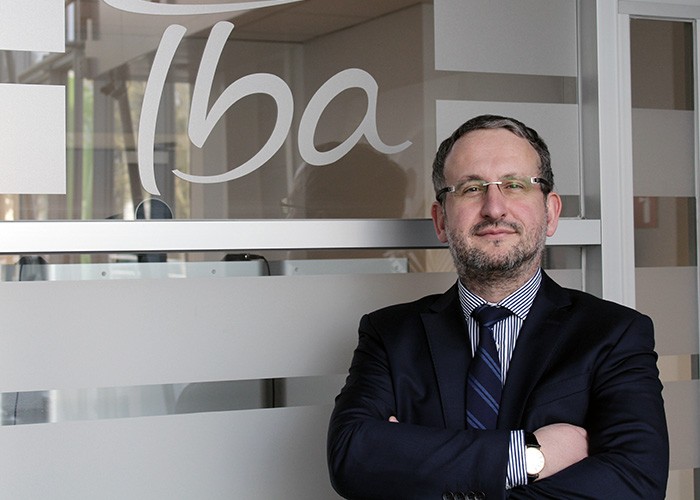 "IBA has grown strongly in recent years", says Bernard Dandoy, VP Group Treasury Unit, Financing and Investor Relations. "The company now employs 1,500 staff and generates turnover of 320 million euros. In 2016 we sold eight proton therapy systems out of a global total of 15 projects. That makes us the market leader in our niche by some margin. The order book is also nicely filled, with a pipeline of orders worth around 1 billion euros (321 million for equipment and 689 million for services)."
IBA started out as a spin-off from the university of Louvain-la-Neuve in 1986. Listing on the stock exchange followed in 1998 and the first cyclotron for proton therapy saw the light of day in the same year. A number of non-core activities were sold off in 2012, as IBA sharpened its focus on its core activities: the manufacture of particle accelerators for cancer diagnosis and treatment.

220 tonnes through the roof
The manufacture and sale of a particle accelerator is no straightforward task. The list price for the smaller cyclotrons, which generate radioisotopes (used in cancer diagnosis), is around 2 million euros. The Proton Therapy Centres (cancer treatment) are produced in two sizes. The compact Proteus®ONE sells for around 20 million euros, while the Proteus®PLUS, a cyclotron with a diameter of four metres and with several treatment pods, carries a price tag of between 40 and 50 million euros.
"We build and test them in Louvain-la-Neuve", says Dandoy. "These giants weigh around 220 tonnes, about the same as a large
airliner. It's so heavy that we lift it out through the roof of the factory using a huge crane."

Challenges for trade finance
The Belgian market is obviously too small for IBA, with only two proton therapy projects operational. It's therefore logical that IBA seeks to exploit the international market to the full. "That brings several financial challenges", says Dandoy.
Naturally, access to credit lines is essential for a manufacturer of capital goods. But the real financial challenge for IBA concerns foreign trade.
"When you export expensive capital goods to distant and less well-known markets, you can't do it without solid financial partners", recounts Dandoy. "Our clients in America, Egypt and the Far East may not know IBA. And IBA has to deal with buyers from different continents about which we know little.

We need financial partners with whom we have a personal relationship, who genuinely stand by our business and who are able to come up with intelligent solutions."
Bernard Dandoy - VP Group Treasury, Financing and Investor Relations
To ensure a relationship of trust between buyer and seller, documentary credits are indispensable. They are exchanged between the foreign buyer's bank and the seller's bank. The documentary credit guarantees that the goods will be delivered and that the invoice will be paid, and therefore provides comfort given the reciprocal lack of knowledge about the reputation and creditworthiness of the two parties.
Another challenge is providing payment facilities and finance for the buyers. "That's often very complex matter", says Dandoy, "because IBA's projects are never standard. As far as possible, we provide solutions that are tailored to the client. That means we need a bank that works with us to devise custom solutions."
IBA therefore needs trade finance specialists who not only know there products thoroughly, but also know precisely what IBA does and what types of contracts they use. "We accordingly look for deep partnerships for the long term and are happy that we can count on the people at KBC Corporate Banking, who know our business through and through", says Dandoy.

For a client from the Far East, K BC helped us devise complex, customised financial solution."
Bernard Dandoy - VP Group Treasury, Financing and Investor Relations
Innovative financial solution
"In a recent case involving a client fromthe Far East, our partner KBC demonstrated its inventiveness", says Dandoy. The party underwriting the client's financial outlay set a number of conditions relating to the finance costs. It wanted to protect itself against interest rate fluctuations, but that created an issue for some of IBA's financial partners.
"But KBC, with whom we have a pretty close relationship, found a solution", says Dandoy. "They developed a complex financial instrument based on a number of products from the dealing rooms. We had a genuinely open discussion, so that ultimately we were able to set up finance structure which allowed us to negotiate with the client. Moreover, KBC was fair: we shared the risk of this solution."

More proton therapy in the future
The number of patients who could benefit from proton therapy is many times greater than the number of patients who receive this treatment today. The biggest challenge for IBA in the coming years might therefore be the missionary work to promote proton therapy in the medical community.
The other major challenge is supporting further growth. "Exporting to less well-known emerging markets by definition carries more risk", says Dandoy. "So it's crucial for us to work with financial partners with whom we have a personal relationship, who genuinely stand by our business and who are able to come up with intelligent solutions."