To remain competitive, banks must be fully committed to digitisation. Innovative collaboration with fintech players can help make the difference. An interview with Wim Eraly, Senior General Manager, KBC Corporate Banking.
 
What developments do you see at the level of corporate banking?
'Large companies are also being confronted by powerful digital trends and challenges. After all, companies are made up of people who are becoming increasingly accustomed to digital solutions for all their needs, at all times and fully customised. The new generation of business leaders is certainly setting the bar ever higher. That requires a different kind of banker.'

How should KBC Corporate Banking best respond to this?
'Banking used to be something for 'real bankers'. Financial ratios, credit structures, etc. Now, there are often other experts who have less expertise in this area, but are more knowledgeable in fields such as cybersecurity, digitalisation, sustainability and mobility. This is a trend where we, as a corporate bank, position ourselves as a 'business partner', rather than a pure financial partner. We look at all the needs of the customer, including both financial and non-financial needs.'
'In addition, our corporate customers are not just looking for products. They may have a dream or a problem and are searching for a complete solution. The only way to provide such an integrated solution is by working together with other partners, inside and outside the financial sector and across international borders.'
What does that mean in concrete terms?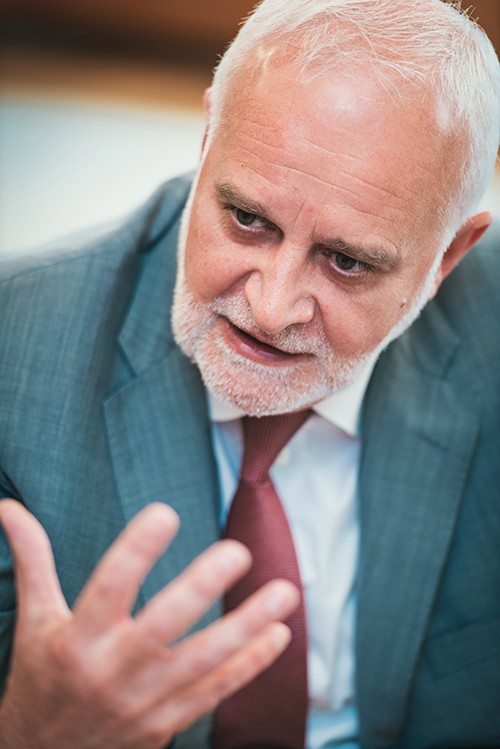 'Look at how KBC Mobile for our private customers has evolved. It has recently expanded its capacities to include the possibility of buying train and bus tickets, or paying for a parking space. This powerful example of open banking is something we are also working on for our corporate customers. Other financial players and fintechs need not necessarily be our competitors. We may as well join forces with them and help entrepreneurs move forward together.'
'A concrete example is our recent joint venture with Arco Information. Soluz.io, the new company, will relieve customers of their invoice burden, from receiving and creating digital invoices to sending and archiving them. All of this will be fully integrated in the systems of our corporate customers. KBC can also provide the most appropriate financing solution for this. For us, an important focus for collaboration also concerns the efficient management of working capital. Professionalising this further is crucial to the financial success of a company. We will also enter into partnerships and offer solutions in this area.'


How can banks and fintech companies reinforce each other?
'It is a clear win-win situation. By using the dynamics and creativity of fintechs, we can accelerate our digital transformation even further. Fintechs are players which detect a specific need, work out an innovative solution for it and want to be the very best at this. They are often smaller companies and not banks. They are therefore subject to far fewer legal regulations and can switch gears very quickly. That speed and creativity are the strengths that we must harness for our customers.'
'For fintechs, too, it is an opportunity to work with us, as KBC has a broad distribution network, extensive expertise and branch teams who know our customers through and through. And they also get access to a large customer base through us.'
How do you select the right fintech partner?
'We take this very seriously. For example, we recently set up a separate open banking and insurance department within KBC, with which we want to make maximum use of our external collaborations. We also never rush into anything. Our corporate business is primarily about trust. What about the stability of a fintech? And what about confidentiality of the data exchanged? What if something goes wrong with the collaboration with the customer? These are all very important questions.'


What impact will the new European PSD2 legislation have?
'Under PSD2, customers will also be able to conduct their banking business from the platform of another player, and not just that of financial institutions. The so-called 'platformification' is definitely on the horizon. Look at China's message app WeChat: one platform with which you can do everything. If something needs to be paid, the Chinese automatically resort to the app.'
'With KBC Mobile we are already responding to this. It is a true all-in-one app. And for our business customers, too, we will be creating space to launch new solutions on the KBC Business Dashboard, our platform for large companies. This provides our customers a single place for all their business needs, allowing them to save time and money, and serves as a powerful addition for their office team, day in, day out.'
So, we are in a battle for the best digital platform and maintenance of customer interaction. Innovative solutions that we develop with other partners, including fintechs, will certainly make a difference here.'
Wim Eraly, Senior General Manager, KBC Corporate Banking
More info?