Never miss an opportunity
Keep right up to date with every property market opportunity, for both direct and indirect investments.
Always up to date
You know exactly how prices are moving. In both Belgium and abroad.
Sophisticated strategy
We can do more together. Our experts follow a holistic approach and likes to see things through your eyes.
Want to invest in a second home? Or are you a seasoned investor looking to broaden your portfolio? Whatever your situation, KBC Private Banking & Wealth closely tracks the real estate market in all its facets.
Investing directly or indirectly in property? Never miss an opportunity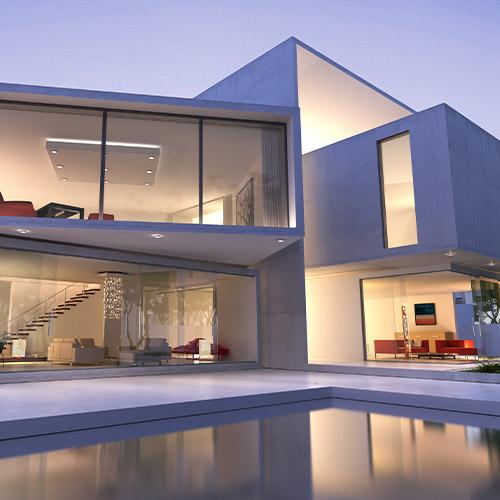 Should you invest in bricks and mortar or in a property fund? This might well be your first question when looking to invest in real estate.
Investing in a building is the most familiar approach: you buy the property, rent it out, receive the rental income and look forward to a potential capital gain on sale. It's up to you to manage your properties.
If you invest in real estate funds, you put your money in one or more construction projects and have less or no management or follow-up to do yourself. This way, you also gain access to part of the property market that is normally hard for an individual investor to tap because of the substantial investments required. What's more, you get to enjoy an attractive return. But you can also switch funds quickly if you want to take advantage of new trends in the market.
In short, investing in real estate depends on various factors. So it's a question of clearly defining your investment goals in advance.
Investing directly or indirectly in property? Our experts track the property market for you and keeps you informed of every relevant opportunity.
From prices to trends, you'll find the answers to your questions about real estate in our KBC Real Estate Strategy
KBC Private Banking & Wealth shares its real estate strategy with you every six months. Our conveniently presented publication keeps you clearly and specifically informed about:

The trend in supply and demand by region;
Real estate price trends by region;
The energy challenges and how owners can prepare for them;
Which types of property are a good potential investment and which are not;
What the critical success factors are for a real estate investment.

This comprehensive briefing means you always know exactly where you need to be to invest in real estate.
Your experience and ours: a combination that works
Strategic real estate decisions aren't always obvious. Should you invest in property privately or through your business? And what financing will bring you the best tax breaks?

At KBC Private Banking & Wealth, we work with you closely. Because your experience, the expertise of our real estate strategists and the knowledge of your private banker or wealth manager are the ideal ingredients for a genuine success story.