Is your financial situation about to change? Or are you starting a new phase in your life? If so, you'll want to know where you stand financially so that you can make better decisions that take account of your wealth. At KBC Private Banking & Wealth, we'll be more than happy to help you flesh out your 'Private Plan'. Feel free to contact us to arrange a meeting.

What is a Private Plan?
A Private Plan is a financial analysis that is designed to optimise your wealth going forward. It enables us to provide you with suitable information for a long-term strategy that offers many financial benefits.

As part of the process, we take account not only of your investments and inflation, but also other things like your:
Business, pension and group insurance
Gifts to your children
Real estate and rental income
And if you have any tax or legal-related questions or need to know something about your inheritance planning, you can always turn to our financial planning specialists. You can then be sure that your wealth is also being optimised in a tax-efficient manner.

How do we draw up your Private Plan?
Your Private Plan comprises a meeting to discuss things going forward, a financial analysis and concrete tips for achieving your plans.

Meeting with your private banker or wealth officer to discuss things going forward
During the meeting, we'll talk about financial and non-financial matters, including your family, your business, your real estate, your passions, your health, your finances, your work and your retirement.

Financial analysis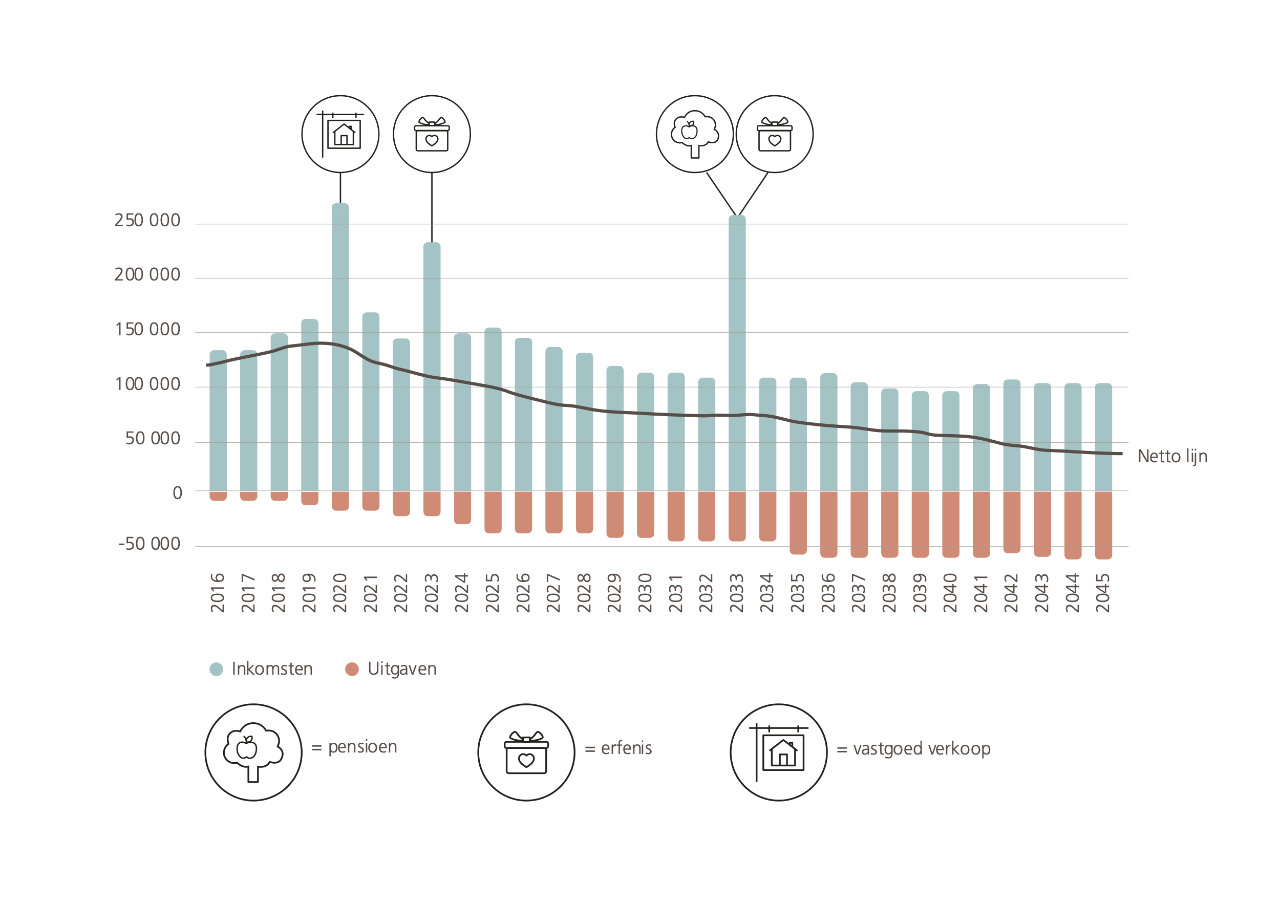 We then use our innovative planning tool to draw up a personal report for you.

We include a graph depicting your income and expenditure along with historical data and forecasts.

Naturally, we take full consideration of your personal needs at all times.

The diagram shows you what this report looks like.

Specific tips and follow-up
On the basis of our discussion and the financial analysis, we will examine together with you how to put your plans into practice. Our financial planning specialists, for instance, are on hand should you require help with any tax or legal matters.

Your Private Plan will be discussed regularly during our meetings to ensure that your financial strategy is adapted to new key moments in your life.