This fund focuses on what everyone agrees is important: care and health
Taking care of yourself and others is now more important than ever, and will become even more vital in future. This fund targets the following global trends:
Demographic ageing: The world's population is increasing and getting older
Growing focus on health: Medical care and related expenses are increasing worldwide
Transformational technologies: Innovation and digitalisation are revolutionising all aspects of health care
The rise of data: Insights from big data allow the medical sector to make well-founded decisions quickly
Skills shortages: There is a growing demand for technical expertise and new skills in light of increasing digitalisation
Growing inequality: Increasing prosperity is not evenly distributed and the gap between rich and poor is widening

The Institute for Health Metrics and Evaluation expects that by 2050 global health-care spending will reach 15 trillion dollars, or 9.4% of the global economy.
Liesbeth Van Rompay, Health Care Analyst at KBC Asset Management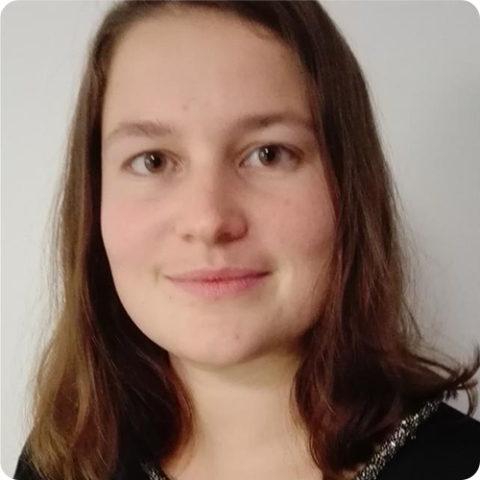 You invest in companies that benefit from the growing care and health market
These companies are active in areas such as:
Medication and biotech: gene therapy, regenerative medicine, personalised medicine, etc.
Diagnostics: self-tests, radiography, scans, etc.
Digital health care: online pharmacies, health apps, remote consultations, etc.
Medical technology: robotic surgery, glucose sensors, pacemakers, 3D prosthetics, etc.
Geriatric and hospital care: hospitals, residential care, dialysis centres, etc.
Health insurance and life insurance
Outsourcing of medical activities: production and testing of medicines, etc.
Medical supplies logistics: specialised storage and transport of medicine, etc.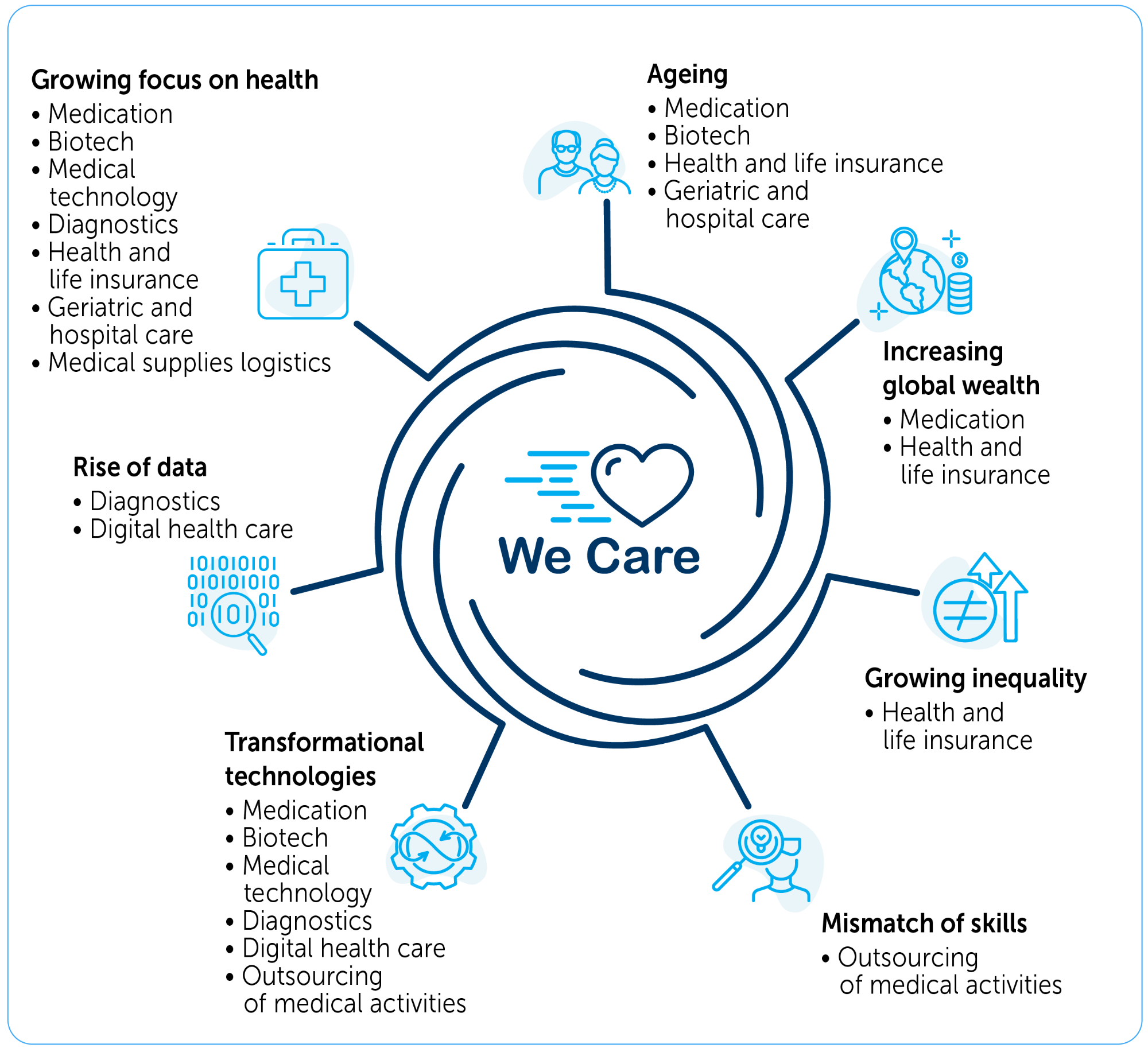 Invested in a socially responsible manner
By opting for this socially responsible fund, you exert a positive influence on the world we live in. This fund only invests in companies that meet strict criteria with respect to:
The environment (for example, reducing greenhouse gas emissions)
Social policy (for example, employee working conditions)
Corporate governance (for example, independence and diversity of the board of directors)

What can you expect from this product?
Actively managed equity fund
Socially responsible investment
In euros
No maturity date, no capital protection, no guaranteed return
Redeemable on a daily basis
Risks
Risk-reward indicator: 6 on a scale of 1 (low risk and potentially lower return) to 7 (high risk and potentially higher return).
High exchange rate risk: Since investments are made in securities that are denominated in currencies other than the euro, there is a significant chance that the value of an investment could be affected by exchange rate fluctuations.
Average concentration risk: There is a concentration of investments in shares of companies in the pharmaceutical and health-care sectors.
Charges
Entry charge: 3%
Exit charge: None (5% but only if you sell units within a month of purchase)
Ongoing charges: A maximum of 1.75% (factored into the net asset value)
Anti-dilution levy: In exceptional situations*
* If net entries and exits involve exceptionally large amounts, KBC Asset Management may decide to levy additional charges on the investors concerned (those buying or selling fund units on that day) to mitigate the negative impact on the net asset value. The size of this levy is based on the transaction charges incurred by the fund manager. Applied in very exceptional situations, this levy is in the interests of those investors remaining in the fund.
Taxes
Withholding tax on dividends: 30% (only for distribution units)
Withholding tax upon exit: None
Stock market tax upon exit: 1.32%, with a maximum charge of 4 000 euros (only for capitalisation units)
This tax treatment applies to individual investors subject to Belgian personal income tax and may change in the future.
Investment policy
KBC Equity Fund We Care aims to generate a return by investing primarily in shares of companies that are contributing to the medical well-being of society through their products and services, such as:
- Production and development of medicine
- Biotech
- Medical technology
- Diagnostics, symptom recognition and tests
- Digital health care
- Care for elderly and sick people
- Outsourcing of medical activities
- Distribution of medical supplies
- Health and life insurance
- Etc.
A current overview can be found at www.kbc.be/thematic-funds.
The fund invests in socially responsible assets while remaining within the limitations described above. Companies are screened twice to ensure the socially responsible nature* of this fund. To this end, a specialised research team from KBC Asset Management works with independent experts.
Firstly, the fund may not invest in assets that are excluded based on a number of exclusion criteria connected with, among other things, tobacco, gambling, arms, fur, special leather and adult entertainment.
Secondly, companies within the same industry group are compared with each other based on a number of SRI criteria (where 'SRI' stands for 'Socially Responsible Investing'), including those related to the environment, society and corporate governance. The fund will only invest in assets that, based on these criteria, belong to the best in class of their group. When determining which companies are to be included in the fund's best-in-class universe, only the top 80% of the companies in each subsector are eligible for investment. You can find further information under 'Strategy selected' in the information about this subfund in the prospectus and at www.kbc.be/investment-legal-documents> Exclusion policies for socially responsible investment funds.
KBC Equity Fund We Care is actively managed with reference to the following benchmark: MSCI All Countries World - Net Return Index (www.MSCI.com). However, is not the aim of the fund to replicate the benchmark. The composition of the benchmark is taken into account when compiling the portfolio.In line with its investment policy, the fund may not invest in all the instruments included in the benchmark. When compiling the portfolio, the manager may also decide to invest in instruments that are not included in the benchmark, or indeed not to invest in instruments that are included. Due to the aforementioned SRI screening, the composition of the portfolio will differ from that of the benchmark.
The benchmark is also used to determine the fund's risk limitation mechanism. This limits the extent to which the fund's return may deviate from the benchmark.
The longterm expected tracking error for this fund is higher than 4.00%. The tracking error measures the volatility of the fund's return relative to that of the benchmark. The higher the tracking error, the more the fund's return fluctuates relative to the benchmark. Market conditions may cause the actual tracking error to differ from the expected tracking error.
KBC Equity Fund We Care may make limited use of derivatives*. This means that
derivatives can be used either to help achieve the investment objectives (for instance, to increase or decrease the exposure to one or more market segments in line with the investment strategy), or to neutralise the portfolio's sensitivity to market factors (by hedging an exchange rate risk, for example).
The fund is denominated in Euro.

More things you need to know
This information is governed by the laws of Belgium. Please read the key investor information document and the prospectus before subscribing. Both documents are available free of charge in Dutch and English from your KBC or CBC branch or at www.kbc.be/investment-legal-documents. You will also find a summary of your rights as an investor there in Dutch, English, French and German.
The net asset value can be found on www.beama.be and in KBC Mobile.
If you have a complaint, please contact complaints@kbc.be, call + 32 16 43 25 94 or get in touch with ombudsman@ombfin.be.
* For the complete overview of financial and economic terms, go to www.kbc.be/lexicon.

Interested in invest in this fund?
Documents