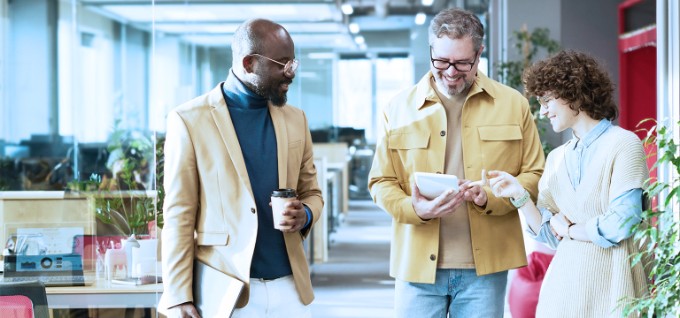 KBC Bank Guarantee
Additional certainty for you and your business relations

one-off establishment fee
Quick and easy application process in our apps
Standard texts with personal details added  or a customised service
Issued within 1 banking day 
What is a bank guarantee?
Suppose you enter into an agreement with a company, government agency or private individual. One of the first things you want to do is assure the other party that you will meet your financial obligations.
With a bank guarantee (or bank warranty), your bank acts as guarantor for the amount involved. If you're unable to pay for whatever reason, your bank will pay that sum to the beneficiary. Although you don't pay the other party, you will have to pay your bank.

More information
You can apply for a bank guarantee at any time in KBC Mobile, KBC Touch or KBC Business Dashboard. To apply for a bank guarantee in the KBC Business Dashboard, you must have access to the 'Finance' module. Your KBC Business Dashboard administrator can provide this access when requested.

Log in
Choose the type of bank guarantee you require
Fill in all the required fields
Double-check the summary of your bank guarantee
Submit your application

We will draw up the bank guarantee and send it in electronic form to the beneficiary.

https://www.youtube.com/watch?v=lqnBImFxl7U
We will issue the bank guarantee no later than the next banking day and send it in electronic form to your counterparty. You'll find the bank guarantee in Doccle one day after it has been issued at the latest.  

During the application process, you can use a standard text with your personal details added. In this case, be sure to double-check your input, because we will copy it verbatim into the final text.

If you prefer, you can include your own text or a legal text in the guarantee. It is also possible to use customised bank guarantees that are drawn up using the expertise of our ICC-certified advisers.

You pay a one-off establishment fee of 75 euros that covers the application, electronic dispatch, any amendments and handling a claim for payment or releasing the bank guarantee. Any fees charged by a correspondent bank are not included.

You also pay a commitment fee during the term of the bank guarantee, which amounts to a certain percentage per year and is calculated on the guarantee amount, as stipulated in the credit contract. The minimum fee is 50 euros for each quarter commenced.

For customised service, you pay an additional charge of 100 euros.

If you want to apply for a bank guarantee to secure the obligations of another company, you will be shown a list of approved parties during the application process. If the company concerned is not included on our list, you should contact your branch.

Tip: before applying, make sure you have all relevant documentation to hand (commercial contracts, leases, invoices, letters of award, notices or any other relevant documents), so you can start the process without delay.