The IsaKey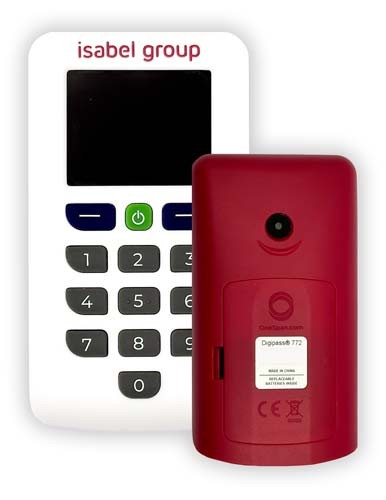 IsaKey is a new security method for the Isabel payment platform. You can also use it to log in easily to the KBC Business Dashboard environment.
Convenient
IsaKey is wireless, which does away with the need to install security components or a card reader.

Safe and forward-oriented
IsaKey now gives you a modern, widely applicable and secure method of authentication and signing. It provides the perfect balance between making secure payments and having anytime, anywhere access to your Business Dashboard.

If you've already received an IsaKey, you can activate it right away by following the procedure set out in the cover letter.

The IsaKey is a OneSpan Digipass. By scanning a (coloured) QR code with a device's camera, users can log in and sign transactions.

The Isabel card will be replaced (free of charge) by the IsaKey
Nothing changes as regards the Isabel subscription or the price
The Isabel card will be discontinued by 31 December 2024

You will still need the card, however, to work with banking applications from other banks for a limited time going forward. So, don't destroy it just yet!
You don't have to do anything. The Isabel Group will start contacting Isabel 6 users from 1 July 2023 on, asking them to apply for an IsaKey.
After logging in to Isabel 6, you will see an IsaKey application screen.
When you've filed in the contact details, you will receive a confirmation e-mail from Isabel. You will receive your IsaKey and a cover letter in the post a few days later. You can then activate the IsaKey using your Isabel card.
Learn more about the IsaKey
Any questions or like to know more?
Call Isabel Customer Care on +32 2 404 03 37
Read the IsaKey FAQ page
What if your IsaKey gets lost or is blocked?
Act as quickly as possible, just as you would for an Isabel card, and call:
Card Stop on +32 78 170 170
Isabel Customer Care on +32 2 404 03 37
KBC on +32 16 43 25 18