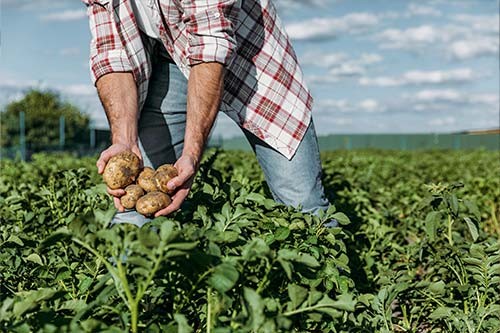 On their arable farm in Laakdal, Nele Devoghel and Stefaan Van Elven produce potatoes, carrots, onions and... energy. The 700 solar panels they've installed provide electricity for the refrigeration units in which they store their harvest. If those units are mostly empty, however, then the power is redirected to the Werchter festival grounds!
Nele and Stefaan employ short-chain marketing for their agricultural products, selling directly to customers or local shops. One consequence of this is that they also have to store their produce themselves. The refrigeration units needed to do so require a lot of energy, which is why – after contracting a loan from KBC – they installed no fewer than 700 solar panels to help meet their energy needs.
In the summer, however, when those panels are producing plenty of power, the cold stores are empty. That was a problem, says Nele: 'Our surplus energy is injected into the grid, but after all the various taxes and fees have been deducted, there's almost no financial benefit. It's certainly frustrating, and what's more, it doesn't do anything to support the energy transition we need.' 
It's not possible simply to sell the electricity you've generated as an individual or business, but it can be done through an energy platform like Bolt. This trading platform buys your power and sells it on, which means that locally produced electricity can be correctly labelled as green energy. This electricity usually goes to households, but last summer it was also directed to the Werchter festival grounds, where it was used to power the stage at The Slope. 
A genuine win-win for Nele and Stefaan as well as for the festival goers 30 kilometres away. As a nice bonus, Bolt invited the couple to attend Werchter, Nele's first visit in 20 years and her chance to finally see Pearl Jam live!
We've always opted for the short chain, often going against the grain, but KBC were happy to help us.
Nele Devoghel, Van Elven Agra
Last summer's exceptional heat meant solar energy production set new records, but unfortunately the heat was also accompanied by an unusually severe drought, which was particularly problematic for farmers. Nele and Stefaan are also looking for sustainable solutions in this area.
After the dry summers of 2019 and 2020, they decided to participate in a 'drought pilot project' run by the Flemish Environment Agency. As part of the 'Blue Deal', the Flemish government's plan to combat water scarcity, they received grants for collaborating with two other local businesses. One neighbour's company requires a huge amount of water for the industrial processing of eggs, which used to then be discharged into the river Laak, but is now collected and shared between Nele and Stefaan's company and a turf producer in Meerhout.
Nele explains: 'By stockpiling the water and putting it back into the soil, we can better protect ourselves against longer periods of drought. This is something that lots of farmers are doing: everyone is trying to become more sustainable. We're also building additional catchment facilities to collect even more rainwater. Part of the project also includes investments to purify and recycle water used for rinsing carrots. But that's not all – we're now thinking about installing another two hundred solar panels!