Your wealth is just as unique as your life. That's why you have your own dedicated contact at KBC Private Banking. Your very own private banker is on hand to ensure that the right experts are there for you to advise on each unique aspect of your wealth, including asset management and inheritance planning, real estate and insurance.
 

Locally embedded
KBC Private Banking offers thorough and professional guidance for managing large and complex fortunes. We are an integral part of the KBC group. KBC is a locally embedded and firmly established bank-insurance company. Its credit rating is above the Belgian and European norm and is continually monitored by the Fitch, Moody's and S&P rating agencies.
This ensures that KBC Private Banking can offer you peace of mind in two ways. One, you have the backing of a solid group that is firmly rooted in Flanders and two, you benefit from having the right experts around you.
Wealth comes in many forms ... each with its own story
Everything begins with you. Like every family and every business, every fortune has its own story. The first thing your private banker does is to listen carefully and get to know the ins and outs of your story, so they can support you in achieving your goals. You decide on the objectives and add your own personal focuses.

Your private banker will identify the dynamics of your wealth and introduce you to the right experts. Together with you, they will take initiatives to grow and safeguard your wealth and so continue to enrich your life's story with new chapters, fully in line with your expectations.
Every client has a unique and special story. That's why I believe proactivity, flexibility and discretion are absolutely essential in my work as a private banker. My first task is to listen in a focused and active way, before coming up with the right type of assessments, ones that are carefully considered and tailored to the client's needs. That's something you can't do on your own. And that's precisely the strength of the integrated wealth management service we provide. At KBC Private Banking, I can turn to experts – like our investment strategists, lawyers and tax experts – and use their services in a coordinated way at just the right time.
Your private banker's network of experts is your network too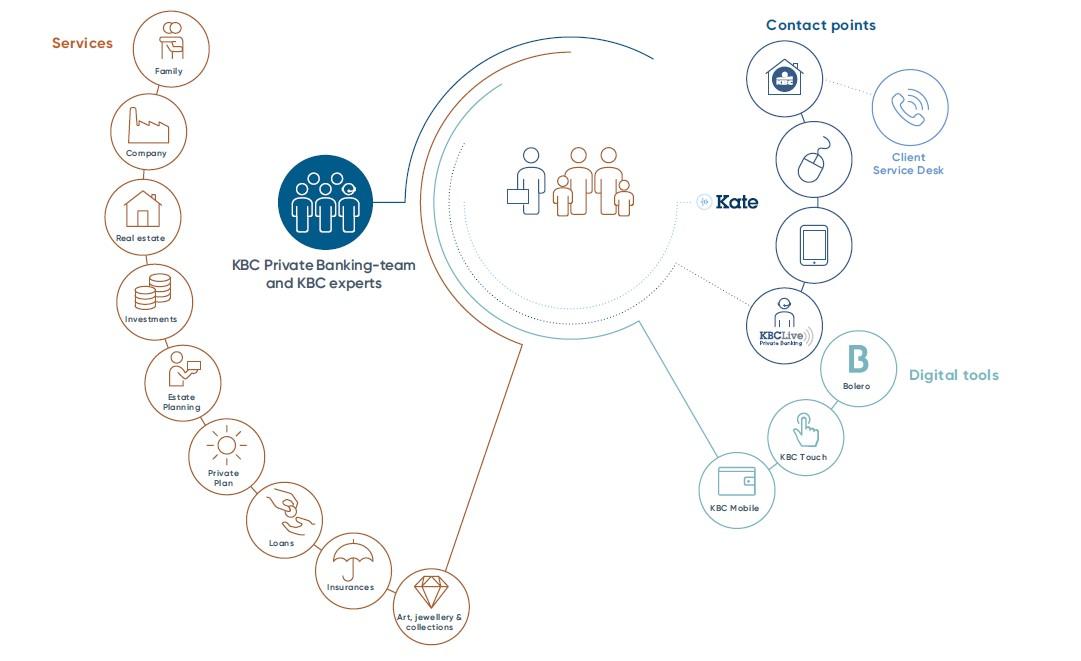 Your private banker is more than just your contact and sounding board at KBC. They are your personal guide through the complex field of wealth management. They receive support from KBC experts in such areas as investments and inheritance planning right through to real estate, tax matters and insurance, not only in relation to your personal wealth, but also your business assets. This network of experts can be called upon at any time, effectively meaning that your private banker's network is yours too. This ensures you are supported by the best specialists in the business.