If you run a business and regularly receive cash payments from your customers, you'll definitely be familiar with the situation of having quite a lot of cash in your cash register or on your premises at the end of the day or week. What's the best thing to do with all this cash? Well, the easy answer is to deposit all those euro coins and banknotes into your business account.

Here's how to pay cash into your business account
You can pay cash into your business account as often as you like simply by depositing it in a KBC-, KBC Brussels-, CBC- deposit machine or in a Bancontact CASH point. 
What should you do with your banknotes?
An ATM accepts a maximum of 120 banknotes per deposit, but you can make several deposits one after the other. Your money is instantly available on your business account. You can also use security bags. Just bring them in during branch opening hours or deposit them in the night safe-deposit box (not available everywhere). Ask about our terms and conditions at your KBC branch.
What should you do with your coins?
If you want to deposit your coins into your business account, you should bring them to your KBC branch during opening hours. You can hand over any amount in cash to a KBC branch staff member. The maximum weight for coins when bringing them in is 10 kg. It's best, therefore, to hold on to your coins until you've collected several kilos, so you don't have to pop into a branch every day.
If you're interested in what this exactly entails, feel free to drop by your branch. We'll be delighted to help.
 
KBC payment terminal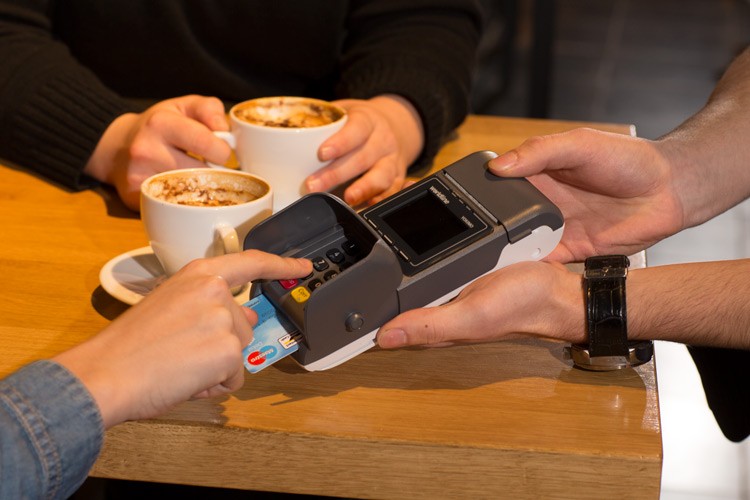 A payment terminal is the ideal solution for limiting the amount of cash on your business premises.
Check out the systems that KBC has to offer and discover the one that's best for you.
Frequently Asked Questions
Yes you can when you use security bags. After putting the banknotes and coins into one of these bags, you can hand it over to a member of staff during branch opening hours. The contents are then credited to your account as a single amount.
You can deposit your banknotes in a KBC deposit machine and hand over your coins separately to a branch staff member. The money is then credited to your business account in two transactions.

Tip: If you want to deposit or withdraw large sums of money in banknotes and/or coins, you can use a security transport firm that is licensed for that purpose. This means that you no longer have to go to the branch and the transport is completely secure. In addition, the costs incurred for using this service are 120% tax-deductible for sole traders and SMEs that meet certain conditions. Ask your accountant if you are eligible for this extra tax relief.


Need a security transport firm, but don't know where to find one? Feel free to drop by KBC and we'll put you in touch with a reliable company.


You can authorise someone else to deposit cash into your business account. Simply make a one-off appointment with a KBC branch staff member.
You certainly can! The staff at all our KBC branches accept foreign banknotes.