Get paid fast
Receive payments securely and quickly, and no fussing with cash and change.
Contactless payments
Let your customers pay for small purchases without them having to enter their PIN.
Fixed or portable, you choose
Various types of payment terminal are available to suit every situation.
What is a payment terminal?
A payment terminal is what is generally known as a 'chip-and-PIN machine', or simply as a 'card reader'. They are devices that can be found in many businesses next to the checkout to allow customers to pay by card. It makes it easier for your customers to pay and it makes it easier for you as a business owner to manage the payments you receive.
The benefits of a payment terminal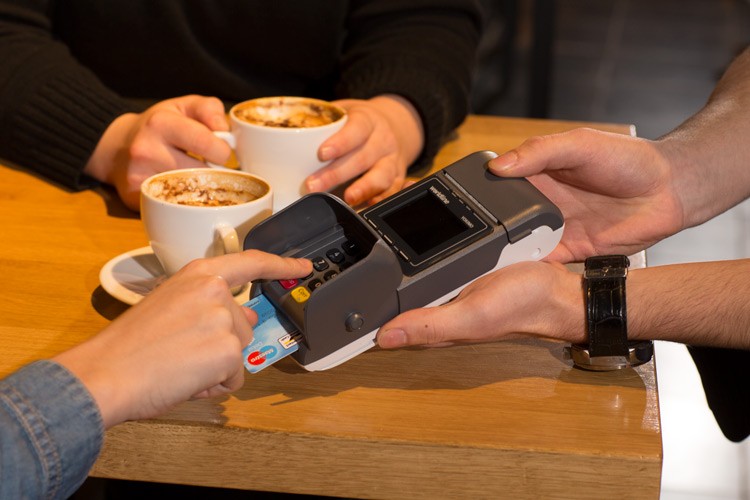 Smartphones and different types of card can be used to make payment to you
Secure and quick payment is guaranteed
You get a clear overview of what has been paid using your terminal
No more hassle with change and small coins
Your customers always have enough money on them
Compare payment terminals
KBC Yomani
KBC Yoximo
Type of payment terminal
Fixed countertop payment terminal
Portable terminal
Connection
Cable or Wi-Fi Internet
W-Fi or mobile Internet

Accepts:

Bancontact, Maestro, Visa, Mastercard, VPay, ...
Electronic eco and meal vouchers
Reading e-ID cards

Contactless payments
Buy it for
599 euros
599 euros
After-sales technical support

14.85 euros/month*

First year free of charge

14.85 euros/month*

First year free of charge

Rental option**
Basic package: terminal with printer (26.53 euros/month)
Advanced package: terminal with merchant module and printer (47.81 euros/month*)
Basic package: terminal with printer and standard charger (37.18 euros/month)
Advanced package: terminal with printer and charging dock cradle (47.83 euros/month*)
Apply
Apply
Learn more
Learn more
Basic price excluding VAT and Worldline operating charges
*Full call-centre service plus rapid on-site support included
**With annual contract

Payment cards and how they work
Bancontact is a Belgian payment system. All Belgian bank cards are equipped with this facility. Foreign bank cards don't have Bancontact and it isn't accepted either at payment terminals in other countries. All bank cards with this facility also have the Maestro facility.

Maestro lets you pay by debit card in Belgium and the rest of the world. All Belgian debit cards have this service, which is provided by Mastercard.
Mastercard and Visa enable you to make payments with your credit card in Belgium and throughout the world. These payment systems are only linked to credit cards (not to standard debit cards). Most credit cards issued in Belgium are either Mastercard- or Visa-branded, two of the most widely accepted credit card brands in the world.
Read more