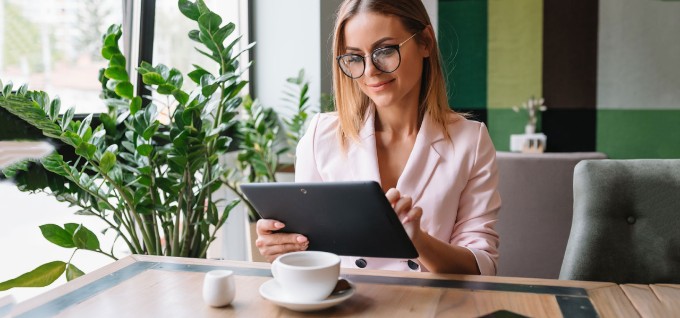 KBC Advance in Current Account
Worry-free, temporary overdraft
A simple solution to cater for changing working capital needs
Payment deferral for your customers

Digital management

What is an advance in current account?
An KBC Advance in Current Account offers you quick and easy cover when you have payments to make, but your earnings are not yet in your account. This business credit is a solution, therefore, for your temporary cashflow shortfalls.
A KBC Advance in Current Account means you can go below zero on your KBC Current Account up to an agreed amount. You draw the credit down by making payments via your account up to the agreed limit. The income you receive on your account is then used to clear the amount overdrawn.
This form of working capital finance offers your business extra breathing space and additional commercial benefits. You can offer your customers delayed payment, for instance, or negotiate discounts from your suppliers. You can also readily fund your stock and cover unexpected expenses.
The amount
You decide the limit for the advance in current account together with your KBC relationship manager based on your financial plans and operational needs. You can use your business credit as soon as we have set the limit for your KBC Current Account.
Benefits
Interest rate
You only pay interest on the amount you actually draw down. The interest is tax-deductible
Flexible
If you need extra budgetary elbow room for a while, we will temporarily increase the limit on your account. You choose yourself when, how frequently and for how long you draw down your money
No more administration once the credit is in place
No administration whatsoever is required when drawing down or clearing the credit. You do not have to submit any proof of investment, for instance.
Commercial trumps for your business
Suppliers often offer a discount if you pay them in cash. An advance in current account helps you do that. If you'd like to offer supplier credit to your customers as an incentive, that's possible too.
Manage it all online
Our Touch and Online for Business digital services let you easily sign for, monitor and manage your advance in current account online. Touch even lets you apply for a new credit facility over the Internet. Find out more about business loans in KBC Touch.
Provide financial protection for your family with KBC Remission of Debt
If you have taken out KBC Remission of Debt cover, KBC Insurance will – in the event of your death – pay off the negative balance on your KBC Current Account to which the credit is linked. That way, your family will be financially protected if you die during the term of the advance in current account. If you take out a advance in current account for your business, the business will be protected.
What the policy covers
This insurance includes death cover for up to three persons who are aged under 55 on the date the loan starts.
The insurance covers assets up to 100,000 euros.
KBC Remission of Debt aligns with repayment of your loan, so that you're never over- or under-insured.
What the policy does not cover
As with any insurance policy, exclusions apply. These include the following:
if the insured commits suicide during the first year after signing up to the policy.
if the insured dies within one year of the policy being signed due to a serious condition (listed in the general conditions) for which they were being treated when they signed up to the policy.
Things you also need to know
Our 'remission of debt' insurance provides death cover in the form of guaranteed-interest (class 21) life insurance.
The KBC Remission of Debt policy is governed by the laws of Belgium.
The end of the advance in current account results in the termination of the cover of all insured persons. Any insured reaching the age of 65 ceases to be covered though, if there are other insured persons, they will of course continue to be covered.
Your KBC Bank branch is your first point of contact for any complaints you may have. If no agreement can be reached, please contact KBC Complaints Management: Brusselsesteenweg 100, 3000 Leuven – E-mail: complaints@kbc.be, tel. 016 43 25 94 (free of charge) or + 32 78 15 20 45 (charges apply) – Fax: + 32 16 86 30 38. If you cannot find a suitable solution, you can contact the Belgian insurance industry's ombudsman service: Ombudsman van de Verzekeringen, de Meeûssquare 35, 1000 Brussels – info@ombudsman.as – www.ombudsman.as.
This does not affect your legal rights.
To request a quote for the KBC Advance in Current Account and KBC Remission of Debt insurance, visit our website or contact your KBC Bank branch.
KBC Remission of Debt insurance is a product provided by KBC Insurance NV – Professor Roger Van Overstraetenplein 2 – 3000 Leuven – Belgium.
VAT BE 0403.552.563 – RLP Leuven – IBAN BE43 7300 0420 0601 – BIC KREDBEBB
Company licensed by the National Bank of Belgium, De Berlaimontlaan 14, 1000 Brussels, Belgium, for all classes of insurance under code 0014 (Royal Decree of 4 July 1979, Belgian Official Gazette of 14 July 1979). Member of the KBC Group
Request credit?
Please refer to the product fact sheet for a concise description of the cover and the most important exclusions, as well as other useful information.