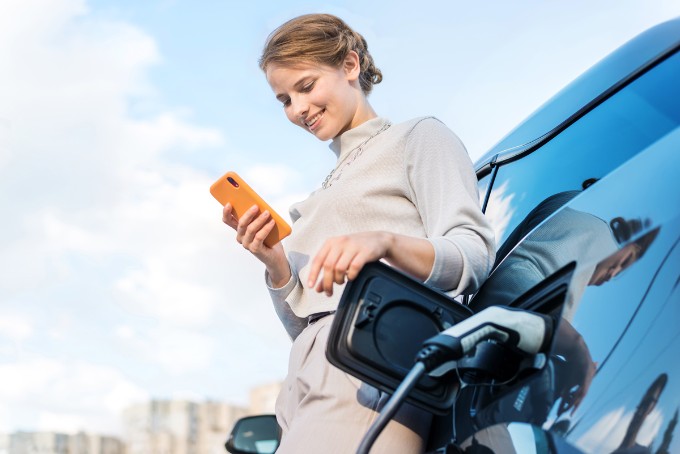 Order a charging station for your company
Order one of the 2.000 charging stations we've reserved at EDI specially for business owners. 
 
Suitable for all electric vehicles and plug-in hybrids

Charge at home and split the bill with your company

More and more electric and plug-in hybrid cars are starting to hit the road. If you already own one, that's great! That said, however, finding an available charging station can sometimes prove a challenge. You may have even considered installing one yourself, but market scarcity means it's far from easy. Thankfully, we have good news: we've managed to reserve 2 000 charging stations exclusively for our business customers. Will you be one of the proud new owners?

What does a charging station cost?
It's easy to set the wheels in motion for a charging station of your own thanks to your KBC Business Account. Just head to 'Additional services' in KBC Mobile and you can start your application today. The 'Smart Pack' we offer is a total solution comprising:

A charging station with a 7.5-metre cable
Installation and inspection of the charging station
24/7 support from EDI
Split billing: invoice your company if you charge at home
Charge card (additional cards on request)
A 'Smart Pack' costs 2 479 euros excluding VAT.
Install your charging station wherever you like
Installation, carried out in cooperation with Electric by D'Ieteren (EDI), can take place at your home address, business address or any other address you prefer, thus facilitating the needs of your company.
If you wish, you can also allow your employees, or even your customers, to use the charging station to charge their vehicles. You should know that if you opt to make your charging station publicly available, you may be eligible for an increased tax deduction of up to 150%. 
Flexible solutions for every situation
For 50 euros, EDI will reserve a charging station and carry out a preliminary study to see whether the location you have chosen meets the conditions for a standard installation:
Maximum of 10 metres between charging station and fuse box
Digital meter present
No other charging stations
If you do not meet these conditions, EDI will visit the location to make an assessment and draw up a customised offer. If the order is confirmed, the 50 euros paid for the preliminary study will be deducted from the final bill.
How does it work?
1. Open KBC Mobile and tap 'Additional services'
2. Go to 'For your business' and tap 'Order charging station'
3. Fill in the location for your charging station (home, business, another address)
4. Order your charging station and pay 50 euros for the preliminary study
5. EDI will give you a call to ensure the installation goes smoothly