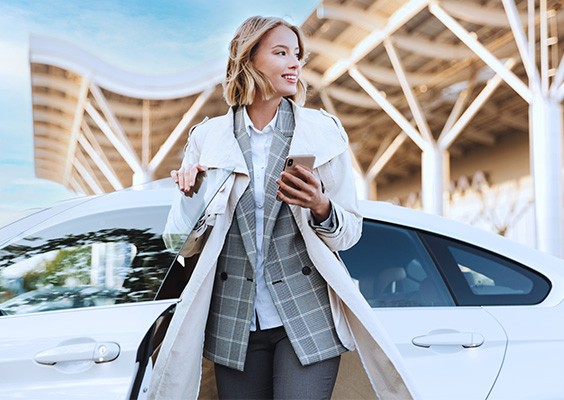 Business Mobility
Arrange all your business travel with our mobility solution

30 euros per year (excluding VAT)*
Choose the expenses that are relevant to your business
See all your mobility expenses combined on one consolidated invoice and easily recover VAT
Get a tidy discount each time you refuel using KBC Mobile
* This annual fee per service user is charged by direct debit.
Why choose Business Mobility?
Want maximum convenience when it comes to customer visits? Whether you're talking about car park tickets, public transport or refuelling, KBC Mobile makes life so much easier be letting you deal with all your travel expenses in one app.
You'll no longer need to keep and scan receipts because your expenses are automatically recorded and combined on a consolidated invoice every month. If you also use KBC Mobile to fill up your car, you'll get a discount on the fuel price thrown in too.

How does Business Mobility work?
Register once for 'Business Mobility' in KBC Mobile and whenever you use one of our mobility services, indicate whether you want the associated cost put on your consolidated invoice.

Discover our mobility solutions for businesses
No need to look for a parking meter when you arrive for an appointment. Indicate where you've parked in KBC Mobile and only pay for the actual time you're there.

Want to be able to quickly drive in and out of the car park? Register your number plate once in KBC Mobile and never worry about car park tickets again at Q-Park.
Leave your debit card in your wallet when filling up your car, because you won't need to pay at the terminal again. Register your number plate once and the amount you spend on fuel will simply be debited from your account.

 
Book a cambio car using KBC Mobile without a subscription and only pay for the kilometres and hours you drive.
Our KBC Mobile app lets you rent a bike for the day from Mobit, Blue-bike or Velo Antwerpen.
More on Business Mobility
To continue using mobility services with your business account, you need to activate the 'Business Mobility' service once. Do it under 'Offer' in KBC Mobile.

If you fill up at Q8 using KBC Mobile, you'll get at least 5 cents off each litre (excluding VAT).

You can register for this service as soon as you hold one or more business products at KBC, have access to KBC Mobile, or have an appropriate power of attorney for a business account at KBC.

If you want to use an additional service, you first have to check the box indicating that you are authorised to contractually bind the company in