Perfect for people on the move
Fancy a coffee after your morning run or a quick bite on the go? Buy it in a twist of your wrist with Fitbit Pay. No wallet or phone needed!
Easy contactless payments
Simply press and hold the left button on your Fitbit watch for 1 second and hold your wrist near the payment terminal to pay by contactless.
Secure payments worldwide
Fitbit Pay uses the latest tokenisation technology to secure your transactions. Plus, your card number is never stored or transmitted by Fitbit.
What is Fitbit Pay?
How do you pay by Fitbit Pay?
Fitbit Pay uses near-field communication (NFC) technology, which enables your watch and a payment terminal to communicate when close to each other (2 to 3 cms).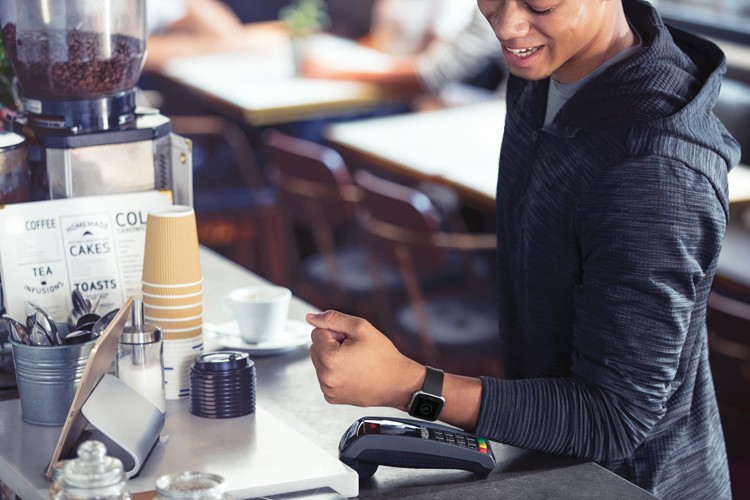 Using Fitbit Pay is easy:
Enter your Fitbit watch PIN when asked
Hold down the left button on your watch for 1 second to see your card appear on the screen
Hold your wrist 2 to 3 cms from the payment terminal to pay* (your watch vibrates and tells you when you've paid)
If a payment terminal isn't recognising your Fitbit, make sure your watch is close enough to the terminal (2 to 3 cms) and let the cashier know that you want to pay by contactless.
How do you add your KBC Debit Card to Fitbit Pay?
Download the Fitbit app on your Android or Apple smartphone and make sure your Fitbit is charged
Open the app and go to your watch's settings
Tap Fitbit Wallet and follow the instructions to add your card
If you haven't set a PIN yet, you'll be asked to create a new one.
Fitbit Pay% payments are made through the Maestro network, have no separate limit and count towards your daily/weekly card limit.
Only debit cards can be linked to Fitbit Pay. Credit cards aren't compatible. Make sure that we have your correct contact details and that your KBC Debit Card is activated for contactless payments.
Before activating Fitbit Pay for you, we and Fitbit verify a few things like the type of card you have, its number and when it expires. If everything checks out, the app tells you that your digital card is ready for use. You also receive confirmation of this in your KBC Mobile/KBC Touch inbox.

Not with us yet?
Also worth knowing
Is it safe to pay using Fitbit Pay?
Fitbit Pay% uses the latest tokenisation technology to secure your purchases. Your card number is never stored or transmitted by Fitbit, ensuring that your transactions are safe and secure.

Which watches are compatible with Fitbit Pay?
To use Fitbit Pay%, you need a compatible Fitbit watch and the Fitbit app (supported from Android 4.4 and iPhone 5).
Fitbit Pay is available on:
Fitbit Ionic
Fitbit Versa (with the exception of Versa Light)
Fitbit Charge 3 (special editions)

Where can you pay with Fitbit Pay?
Fitbit Pay should work wherever you see the contactless logo.

How do you track your spending?
Your last three Fitbit Pay transactions are shown under 'Wallet' in the Fitbit app:
Tap 'Account' on the Fitbit app's dashboard
Tap your watch icon then the Wallet icon
Tap the card whose transactions you want to see and scroll down for your 3 last transactions
Your payments are also shown in your account's transaction view in KBC Touch and KBC Mobile, and on your account statements.

Lost your watch?
Lost your Fitbit? Don't worry. No one can use your watch without your PIN, which you need to enter to unlock your watch after you put it back on your wrist or to authorise a payment.

For added security, you can suspend the card on your watch in the Wallet section of the Fitbit app (even if your watch isn't nearby). When you suspend a card, it remains stored in your Wallet, but you can't use it to make payments with your watch.

Stolen, lost or retained card
Act without delay and block your card with KBC Mobile. Tap the card you want to block, select Card Stop and follow the instructions.

Alternatively, call Card Stop immediately on + 32 70 344 344 (charges apply). Card Stop will block your card and ensure you get a new one. Once you've received your new card, you'll need to register it with Fitbit Pay to be able to pay that way again.
Card Stop can be contacted at any time.

Fitbit Pay is a registered trademark of Fitbit Inc.