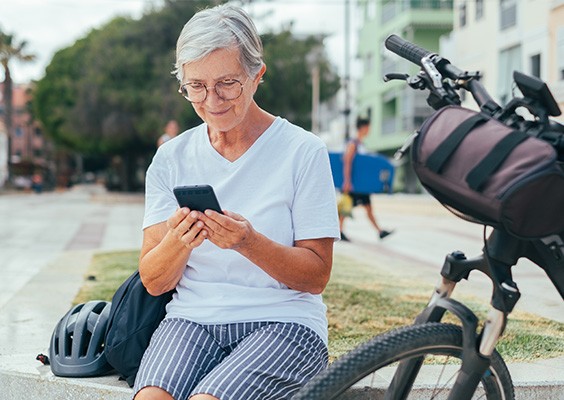 Bicycle insurance
More than 7,000 people took out bicycle insurance with KBC in 2021

Insure your bike against theft and other damage
Get 24/7 bicycle roadside assistance for punctures, technical defects or accidents
Go on holiday knowing your bike is covered for theft and damage worldwide

Why take out bicycle insurance with us?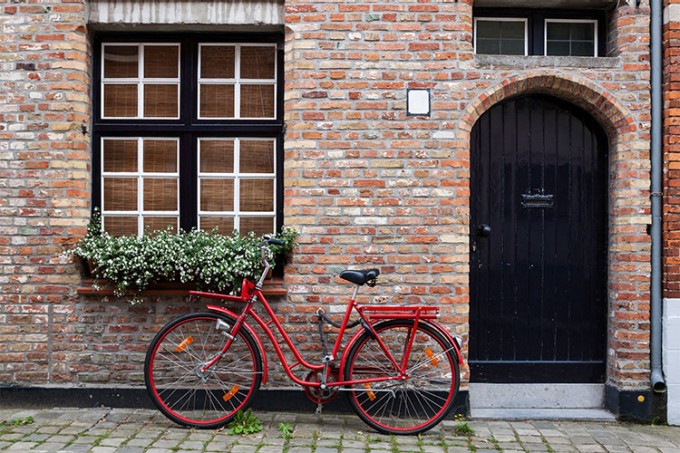 A new bicycle is a major investment and most likely something you can't do without. So, it's wise to take out proper insurance, certainly if:
You damage your bicycle and bicycle bags in a fall (this insurance covers the damage both to your bicycle and the bicycle bags).
Your bicycle is stolen while you're on holiday (our insurance provides compensation for the stolen bicycle, anywhere around the world).
What is covered?
Any unexpected damage to, destruction or theft of your bicycle, worldwide and 24/7 Up to 12 months after the purchase date, we will fully compensate the sum insured for your bicycle.
Accessories (such as a bicycle bags, child seats or bicycle trailers) with a value of not more than 300 euros are included under the cover free of charge
Damage to your bicycle helmet is covered up to a maximum of 125 euros if your bicycle has also been damaged

Bicycle assistance (VAB breakdown service)
Accident, technical defect, puncture, faulty battery, vandalism, theft or attempted theft of your bicycle? If so, the VAB will come to your aid anywhere in the Benelux and within an area of 15 km across the border with Germany and France, if your bicycle is on a road that can be accessed by a VAB assistance vehicle.
If necessary, we will take you, your bicycle, your children and your bicycle trailer either to the location best suited for the repair or to your destination.

Not covered
Under all-risk bicycle insurance
Damage caused by wear and tear or lack of maintenance
Damage that has no influence on the use of the bicycle
Wear and tear such as scratches, dents or paint damage
Damage to tyres and damage to or theft of the battery with no damage to the bicycle itself
Damage caused whilst taking part in competitions
Under bicycle assistance insurance
We will not provide assistance if you are unable to continue using the bicycle due to:
A defect that recurs regularly as the result of poor maintenance
Damage you cause intentionally
A defect or breakdown while the bicycle is at a repairer
The complete list of exclusions can be found in the General Conditions.
Learn more about KBC Bicycle Insurance
Use our handy simulator to see what your bicycle insurance will cost you. You can take out cover online straightaway, without having to go to your branch.

And with us, you're not on your own when it comes to claiming. There's always a KBC Insurance agent in your neighbourhood who will be happy to help you with your claim. That includes insurance you've taken out with us online.
You can insure these bicycles:


City bikes
Racing bikes
Mountain bikes
Tandems
Folding, recumbent, balance and cargo bikes
Electric bikes that can reach a maximum speed of 45 km/h when pedal-assisted
Electric bikes that can autonomously (i.e. without pedalling) reach a maximum speed of 25 km/h 

However, bear in mind that:

Your bike may be not be older than two years when the insurance is taken out, or two months if you take out the insurance online
The invoice amount must be between 600 and 10,000 euros (bicycle and accessories combined)

You cannot insure these bicycles:

Bicycles with an electric auxiliary engine that can run autonomously (i.e. without pedalling) and reach a maximum speed of 45 km/hBicycles used for paid transport of passengers or goods
Bicycles you rent or lease privately or rent out commercially
Bicycles used for business purposes (such as pizza delivery services)

Bear in mind that you must take out moped insurance if your electric bike can run autonomously (i.e. without pedalling) at a speed of more than 25 km/h. This type of bike also has to be registered with the Vehicle Registration Office. A number plate, helmet and driving licence are compulsory.
To prevent bicycle theft, we require the use of an ART-approved lock (category 2 or higher) or a Gold or Silver Sold Secure Bicycle lock.
You must always secure your bicycle to an immovable object with one of the above locks when you leave your bike on a public road or in another place that is accessible to the public. This object may also be another bicycle or a car.

These preventive measures do not apply if your bicycle is at your home or in a locked private building.
We offer you a 12-month purchase price guarantee, which means we will fully compensate the sum insured for your bicycle during that period, without making any deductions for wear and tear. As from the 13th month, we'll apply a wear and tear percentage of 1% per month.
The amount to be insured comprises the price actually paid (= invoice price incl. VAT), plus the price of any additional parts or accessories purchased, such as a bicycle bag, bicycle trailer or child seat. Accessories with a total value of not more than 300 euros are included under the cover free of charge. Therefore, you only have to provide the value of accessories above 300 euros.
If not just the bicycle but also your bicycle helmet is damaged, we will provide compensation of up to 125 euros for it.

The deductible, the amount you pay yourself, is 50 euros.

%%product fietsverzekering%% ensures your bicycle is covered for theft and damage along the way. Taking out our family and accident insurance policies means you are also properly insured when you go out on your bicycle.

Your family insurance covers your third-party liability, so you're insured if you cause loss or damage to someone else with your bicycle
Your personal accident insurance also covers the expenses not covered by your health and hospitalisation insurance following an accident
Good to know
KBC Bicycle Insurance is a form of non-life insurance and assistance insurance. It includes all-risk cover for your bicycle, including theft and bicycle roadside assistance, provided in collaboration with VAB.
This product is governed by the laws of Belgium.
The insurance in this policy applies for a term of one year and is tacitly renewed unless it is cancelled no later than three months before the main renewal date.
Your intermediary is the first point of contact for any complaints you may have. If no agreement can be reached, please contact KBC Complaints Management, Brusselsesteenweg 100, 3000 Leuven, complaints@kbc.be, tel. 016 43 25 94 or + 32 78 15 20 45 (charges apply), fax + 32 16 86 30 38. If you cannot find a suitable solution, you can contact the Belgian insurance industry's ombudsman service: Ombudsman van de Verzekeringen, de Meeûssquare 35, 1000 Brussels, info@ombudsman.as, www.ombudsman.as
This does not affect your legal rights.
Please go to www.kbc.be, KBC Touch, KBC Mobile or contact your Insurance Expert to get a KBC Bicycle Insurance policy quote.
KBC Bicycle Insurance is a product provided by KBC Insurance NV – Professor Roger Van Overstraetenplein 2 – 3000 Leuven – Belgium
VAT BE 0403.552.563 – RLP Leuven – IBAN BE43 7300 0420 0601 – BIC KREDBEBB
Company licensed by the National Bank of Belgium, de Berlaimontlaan 14, 1000 Brussels, Belgium, for all classes of insurance under code 0014 (Royal Decree of 4 July 1979, Belgian Official Gazette of 14 July 1979)
Member of the KBC Group

Read this information carefully before taking out this insurance