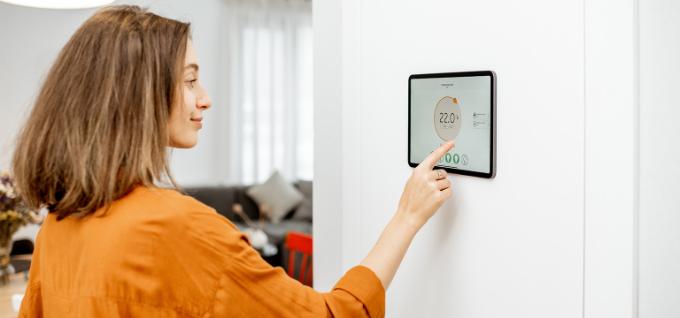 Your energy loan
90% of our customers apply for their energy loan online

Get a lower rate for energy-efficient investments
Work out your energy loan at a top-value rate

Apply for your loan online (even if you're not a customer with us)

Get a lower rate for energy-efficient investments
If you're looking to make home improvements and at least half of your renovations are for energy-efficiency purposes, look no further than the KBC Energy Loan. You borrow at an attractive rate and you don't have to pay any origination or registration fees. What's more, your rate is fixed so your repayments stay the same each month.

Lots of energy-efficient investments are eligible for an energy loan, including new boilers, heat pumps, solar panels, home batteries and insulation.
> Check out the full list

Good to know: if at least half of your renovations are not for energy-efficiency purposes, you can apply for a renovation loan.
Work out your energy loan at a top-value rate
If you know how much you want to borrow for your energy-efficient project, you can work out your loan online in KBC Touch and KBC Mobile, just like you would in your KBC branch.

Flexibility and convenience guaranteed!

You'll quickly see:
Your rate
The amount you pay each month

The term of your loan

Apply for your energy loan online
If you like what you see after running your simulation and you've looked closely at the costs involved, apply for your energy loan online (even if you're not a customer with us).

You can use KBC Touch and KBC Mobile to get a complete overview of your loan.

You'll quickly see:
How much you have left to pay off

When your next repayment is due

How long your loan still has to run and what you pay each month
And if you have any questions or need advice, our KBC Live staff are on hand to assist you.
This loan is for you if at least half of your home improvements are for energy-efficiency:

Energy-saving enhancements that are eligible include:

Heating

• New central heating or solar boiler
• Water pumps and other geothermal energy systems
• Energy monitoring systems (smart thermostat)

Insulation and glazing

• Double and high-efficiency glazing
• Roof, wall or floor insulation
• Asbestos removal

Aeration and ventilation

• Ventilation systems
• Airtightness testing and improvements

Water

• Low-energy hot water systems
• Water saving and filter systems, like rainwater harvesting


Electricity and lighting

• Low-energy lighting
• Solar panels
• Home batteries
• Wind turbines
• Charging stations


Audits

• Energy audits (including energy performance certification)

 
You can make even more long-term savings with energy-efficiency investments
And that's not all. Your home will also be worth more if you sell or let it later.

A renovation loan doesn't involve taking out a mortgage, sparing you a trip to a notary-public and saving you money on what can be substantial extra costs.

All you need is proof of investment like a

signed invoice or
contractor/seller quote

The rate of interest is 4.19%  (4.49% as from 85 months).

The minimum term for a KBC Energy Loan is six months. The maximum term:

Follows the statutory repayment terms
May not exceed 144 months
May not be longer than the economic life of what you're paying for
We will disburse your renovation loan

Once we have received the signed documents and proof of investment from you
Onto a specified account or joint account in your name
You start making your loan repayments one month after your renovation loan is paid to you. All subsequent monthly repayments will take place on the same day of the month as the initial repayment.
Dan zijn er nog meer mogelijkheden om je renovatie of verbouwing te financieren. Dat bekijken we dan het best samen met jou. Daarnaast kun je ook voordelig lenen voor je koop- of renovatieproject met het Vlaams renovatiekrediet.

Instalment loan details
Legal information
Credit type: Instalment loan provided by the lender KBC Bank NV, Havenlaan 2, 1080 Brussels, VAT BE 0462.920.226, RLP Brussels, FSMA 026.256 A. Subject to your loan application being approved by KBC Bank NV and mutual agreement.