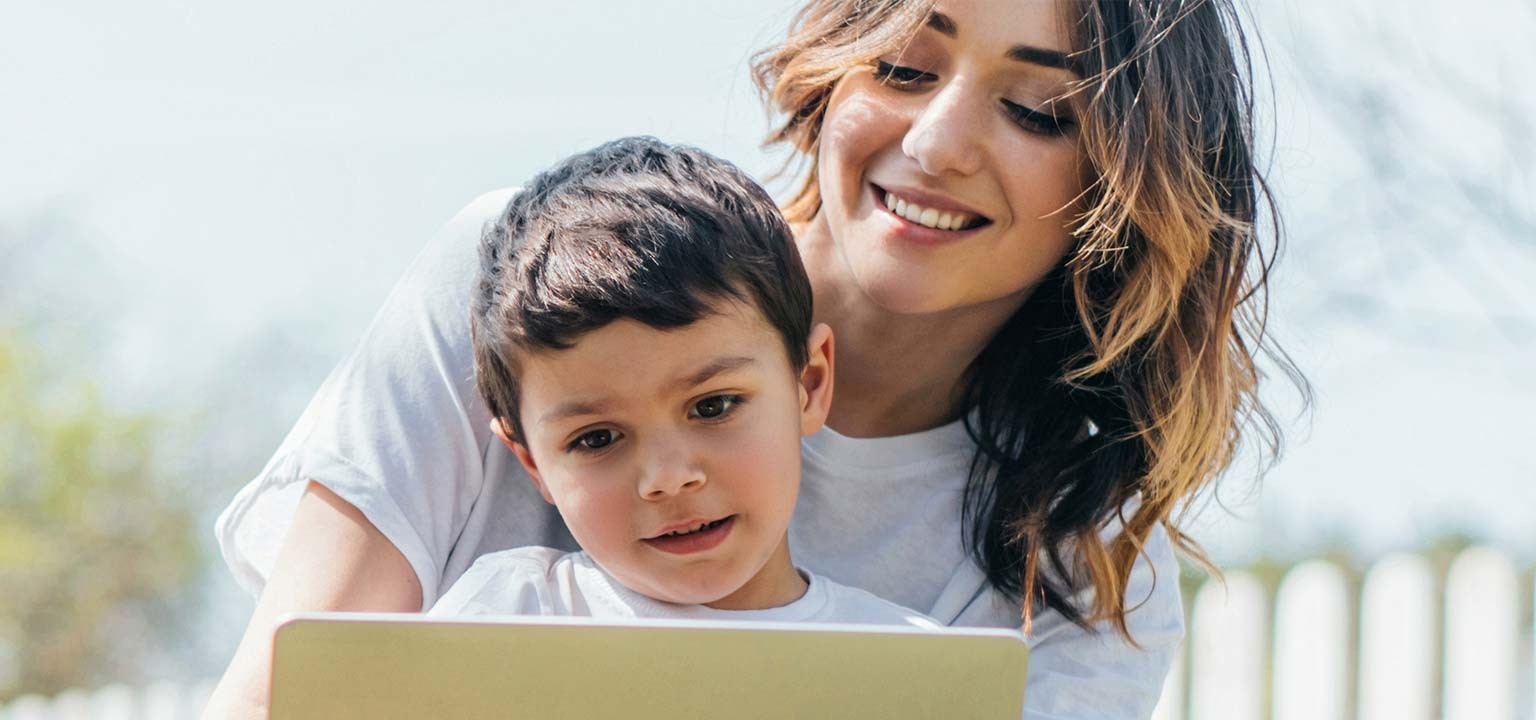 Protection against cybercrime
Cybercrime in Belgium has tripled in the last five years, so how can you continue to enjoy the benefits of the internet and your devices without worrying about cyberattacks? Discover our solutions to protect yourself, your family and your devices from cybercriminals.

Make sure you and your family are covered
In 2022, we received 5.5 million reports of misleading e-mails, text messages and other online fraud. Financial losses attributable to phishing, fake websites and other scams are increasing every year.
Centre for Cybersecurity in Belgium
How the scams work
Cybercriminals are increasingly inventive and regularly try out new techniques in their attempts to deceive you (a few examples are given below). In these situations, it's best to be on your guard for possible scams:
 
Online bookings
You book a holiday home in Italy online for the whole family, but when you arrive you discover that the property doesn't exist and the scammer has run off with your money.
Online purchases
You see a heavily discounted 4K television for sale, which you hurriedly buy online (the payment comes straight off your account) but the TV is never delivered as the online shop turns out to be fake.
Fake e-mails
You receive an urgent e-mail from 'your energy supplier' reminding you to pay your bill using a link in the message. If you don't pay, they'll shut off your electricity power right away. You later find out that the e-mail wasn't from your energy supplier at all, but from scammers who tricked you into making immediate payment before making off with your money.

It can also work the other way, with scammers posing as the tax authorities in an e-mail and saying you'll receive a tax rebate if you provide your bank details via a link. They then use these details to steal money from your account or to make payments in your name.
WhatsApp fraud
You receive a message from an unfamiliar number. Apparently it's been sent by a family member who says he's lost his mobile phone but has an urgent payment to make and is asking you to pay for him. He promises to pay you back right away. After payment, however, you hear nothing more from him. The message didn't come from a relative but from a fraudster.
The complete list of exclusions and the cover provided by KBC CyberSecure Insurance can be found in the general conditions.

Every year, thousands of people in Belgium fall victim to cybercrime. If you want to protect you and your family from the consequences of cybercrime, check out KBC CyberSecure Insurance.

Protect your devices
The devices you use every day, such as your tablet, laptop or smartphone, can also be used against you if cybercriminals succeed in installing malware on them.

Malware is an umbrella term for various types of malicious and harmful software that is installed on a device without your knowledge or permission.
What is malware and how does it work?
Malware is software that is designed to:
Disrupt your computer system by, for instance, preventing you from accessing files or folders (ransomware)
Collect sensitive information that can be used against you
Access private systems like your e-mail account or banking app
How do you know if malware has been installed on your device?
You experience software problems (sudden error messages, a blue screen, programs that freeze up are just some of the signs indicating that your device may be infected with malware)
A malfunctioning browser means you suddenly end up on websites you don't know
Your Twitter, Facebook or Instagram account sends messages without your permission
Your passwords are changed without your knowledge
Your device becomes slower (malware is software that you cannot see but that extracts computing power from your device, leaving less 'power' for your other apps)
What to do in the event of loss or damage
If you've had money taken from your account, had your personal data stolen or suffered reputation damage, report your claim to KBC Secure4u by calling 016 432 000 or send an e-mail to 016 432 000.

When filing a claim by e-mail, do not include any sensitive information in it. Wait instead until KBC contacts you.

More about KBC CyberSecure Insurance
Covered
Financial loss due to:


Online orders, bookings or purchases from private individuals and purported retailers or service providers
Deception perpetrated by supposed family members (such as 'whaling' via WhatsApp)
Theft of personal data
Phishing scams via text message, phone or social media
Not covered
Financial loss due to:


Friendship or dating scams
Online investment scams
Credit card fraud or scams
Payments for counterfeit goods
Things you should know about KBC CyberSecure Insurance
This product is governed by the laws of Belgium.
KBC CyberSecure Insurance is a form of insurance that covers various types of financial loss and psychological support in the event of reputation damage. KBC Bank has taken out this insurance with KBC Insurance. You are covered if you have signed up to it and paid the membership contribution.
Account holders can take out or cancel KBC CyberSecure Insurance at any time by going through the digital process in KBC Mobile or KBC Touch.
If you have a complaint about the conditions of cover, please contact your KBC Bank branch or KBC Complaints Management, Brusselsesteenweg 100, 3000 Leuven, complaints@kbc.be, tel. 016 43 25 94. If you cannot find a suitable solution, you can contact the Belgian insurance industry's ombudsman service: Ombudsman van de Verzekeringen, de Meeûssquare 35, 1000 Brussels, info@ombudsman-insurance.be, www.ombudsman-insurance.be. This does not affect your legal rights.
Submit any complaints you may have by e-mail to complaints@kbc.be, tel. 016 43 25 94 and/or by sending an e-mail to ombudsman@ombudsfin.be.
Find out more about KBC CyberSecure Insurance by visiting our website or talking to one of our experts. KBC CyberSecure Insurance is a product from KBC Insurance NV – Professor Roger Van Overstraetenplein 2, 3000 Leuven, Belgium. VAT BE 0403.552.563, RLP Leuven, IBAN BE43 7300 0420 0601, BIC KREDBEBB.

Company licensed by the National Bank of Belgium, de Berlaimontlaan 14, 1000 Brussels, Belgium, for all classes of insurance under code 0014 (Royal Decree of 4 July 1979, Belgian Official Gazette of 14 July 1979). Member of the KBC group

Read this information carefully before taking out this insurance