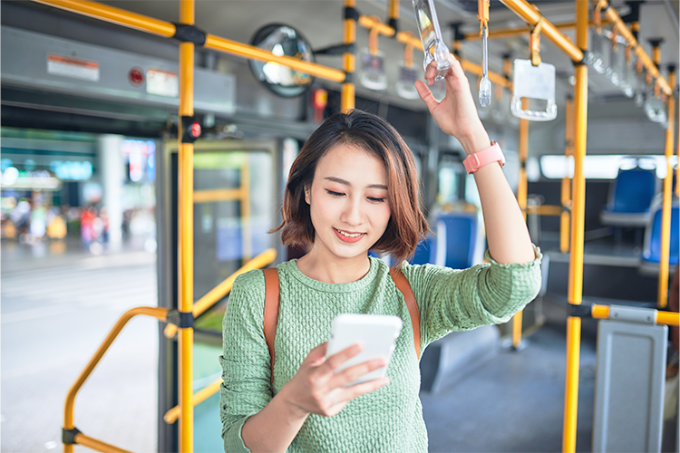 Spare change investing
Chosen by new investors who want to test the waters by investing very small amounts

Invest with small amounts of money 
Stay in control of your finances 
Get started quickly and easily in KBC Mobile

Why invest your spare change?
Turn your small change into a big investment that – in time – could make you more than saving. It doesn't matter whether you're new to investing or an old hand, anyone can do it. If you're just starting to invest, you can begin with small sums of money to give you a basic idea of what investing entails. If you've already got an investment, investing your spare change is a neat way to supplement your existing portfolio. 

What exactly is spare change investing?
You make purchases and payments from your current account every day. If you decide to invest your change, we'll round up what you spend to the nearest euro. Once your roundups reach 10 euros, we put them into an investment plan for you, meaning you invest without it impacting your wallet or lifestyle to any noticeable extent. 
How does spare change investing work?
Suppose you pay 3.51 euros at your local bakery. We'll take 4 euros off your account and add 49 cents to your investment plan. We'll do this for all your everyday spending, unless you'd end up going overdrawn on your account. Something you may be interested to hear is that the average KBC customer rounds up about 90 cents every day. That results in a monthly investment of 20 euros! 
More about spare change investing
Users of KBC Mobile can start investing their spare change in just a few taps. Our app shows you how much you've already invested and what that may have made you in the meantime.

Open the 'Offer' menu, scroll down to 'Savings and investments' and tap 'Show more' to see the 'Invest your spare change' feature.

We round up all your everyday purchases and payments from your account to the nearest euro at the end of each day. That includes credit transfers, card payments, standing orders, direct debits and loan repayments.

We won't do any rounding up if your account has a negative balance or roundups would cause you to go overdrawn on your account.

Yes, you'll be able to see your investment plan as soon as you've set it up. Just go to 'Investments' and then tap 'Investment plans'.

Amounts you pay into your investment plan are shown under 'Investments' > 'Investment plans' a few days after you make your deposit.

Processing your details for the fund in which you invest takes 3 working days. The number of units and the equivalent value can only be viewed after the details have been processed.

You only pay usual charges for the fund (see the product information for details).

Yes, you can. Tap 'Investments > More > Periodic investments > Invest your spare change > Manage tab > Pause' to do so.

Tap 'Investments > More > Periodic investments > Invest your spare change > Manage tab > Restart' to do this.

If you want to stop investing your spare change for good, contact KBC Live for more help.
Yes, you can by going into the details of your investment fund, though certain terms and conditions may apply (see the relevant product information for more details). If you need help, please contact KBC Live.
Yes, you can. Simply set up a standing order to add to your investment every month on top of your roundups.

Go to 'Investments' and select 'Investment plans', 'Invest your spare change' and then 'Manage'. Tap the 'plus' sign next to standing orders.

You decide whether to double or triple the amount of spare change being invested. You can adjust it from x2 to x3 or vice versa. Turn on the Turbo.