Got an annual date with snow-capped mountains or off on your first ski trip? Either way, it's best to be well prepared for your holiday. Did you know that not only your gear, but also your insurance policies and smartphone can be winter-holiday-proofed? Our holiday checklist is here to help. Use it to embark on a care-free winter holiday.
I'm going on a ski trip and I'm taking along ...
☑ Peace of mind
Holiday insurance sorted? To check, simply open KBC Mobile or KBC Touch and find out how well covered you are on holiday by answering a few questions. You can also take out any missing insurance straight away.
Did you know that your credit card could already insure you against a number of unforeseen circumstances? If you want to leave nothing to chance while travelling, you're better off taking out comprehensive travel insurance. Discover the differences!
☑ My warm clothing
You're heading for snowy conditions, so take plenty of warm clothing. Extra-long socks, underwear and base layers are essential. You'll also need ski clothing. Ski pants, a ski jacket, thermal layers and ski boots, for example. And don't forget your hat, gloves and ski goggles.
☑ My ski helmet
Safety first! In many ski resorts, it is mandatory for children to wear ski helmets. It's a good idea for you to wear one, too.
☑ My ski gear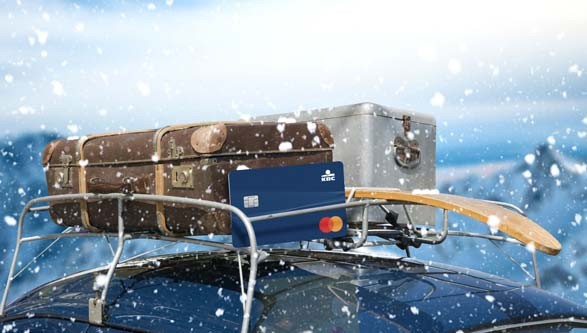 Hiring ski gear in advance or upon arrival? The advantage of hiring gear when you arrive is that it's easier to change if there's a problem. You also don't have to drag it all the way there and back. That said, bringing ski gear from Belgium is often cheaper. If you ski every year, it might be a wise idea to purchase your own gear.
Your ski gear will also need maintenance. Waxing your gear and sharpening the edges allows you to glide cleanly over the snow. Did you know you can maintain your gear yourself? Not sure what you're doing? Or small repairs needed? Take your gear to a specialist. And in good time, too.
☑ My ski lesson reservation
First time in the mountains? Don't forget to book skiing lessons in advance. Take proof of your reservation with you for certainty's sake.
☑ A first-aid kit
Want to avoid long queues at the local pharmacy? Always take a first-aid kit with bruise cream, cold packs, sun cream and painkillers. Hitting the après ski hard can take more of a toll than a tumble on the slopes.
☑ Work that booty
Skiing for a whole week? Your calves will benefit if you get your muscles in shape before leaving by doing some squats. There's plenty of inspiration on YouTube. Limber up in advance to get ski fit. Look online for videos that show you how to stumble in style and fall like a pro. It can happen to the best of us...
☑ My smartphone

Anti-social screen-gazing isn't what a holiday is all about, now is it? That said, your smartphone could come in pretty handy during your holiday in the snow.
Want to know how many centimetres of snow have fallen at your destination? There are plenty of good apps online that tell you which winter destinations have the most snowfall. The major ski resorts have their own app.
Travelling by car? Download the KBC Mobile app. This ensures you have all the necessary contact information should you have an accident or break down. You can even submit a claim on the go.
Be sure to save the contact details of your holiday insurer too. As a KBC customer, you will find these in KBC Touch. We hope that you won't need to use it, but if the worst happens you always have quick access to the right number.
Want to know the damage after an evening of après-ski? Simply check your balance with KBC Mobile. You can also use it to easily pay your friends back for that round of drinks.
☑ Winter tyres and chains
Your car deserves the necessary attention, too. In countries like Germany, France and Austria, it is mandatory to fit winter tyres when driving in winter conditions. So be sure to arrange an appointment at the garage in good time.
☑ My credit card
If you hold a KBC Basic Account or a KBC Plus Account, you can apply for a free KBC Credit Card*, which comes in particularly useful when making payments abroad. You also have the option of adding one or more fee-based insurance packages and services packages to it and giving yourself travel peace of mind wherever you go. Learn more.

☑ My digital safe
*Subject to your application being approved
The KBC Credit Card is a credit card issued by: KBC Bank NV, with registered office at Havenlaan 2, 1080 Brussels, Belgium. VAT BE 0462.920.226, RLP Brussels, FSMA 026 256 A.
The KBC Flex Budget facility is an open-ended credit facility linked to the KBC Credit Card and used as an additional means of drawing credit.
Lender and card issuer: KBC Bank NV. Subject to your card or credit application being approved by KBC Bank NV.
Your intermediary is the first point of contact for any complaints you may have. If no agreement can be reached, please contact KBC Complaints Management, Brusselsesteenweg 100, 3000 Leuven, complaints@kbc.be, tel. 016 43 25 94 or ombudsman@ombudsfin.be, www.ombfin.be. This does not affect your legal rights.