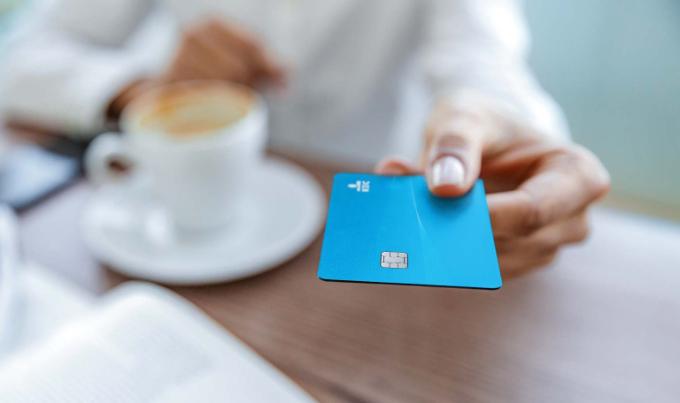 KBC Plus Account
The current account made just for you
Get a credit card*, 2 debit cards and access to additional services

Bank with convenience for a fixed monthly fee
Open your account online (with itsme®) and start using it right away
 
Why open a KBC Plus Account?
The KBC Plus Account is ideal if you're looking to bank with convenience and to carry out more than just routine banking transactions.
You can use your debit card to make contactless payments quickly and safely. What's more, the free KBC Mobile app gives you access to all the additional services and Kate Deals.
More about this current account
Get two debit cards that let you pay by contactless
Personalise your debit card with a favourite photo twice a year 
Bank online on your computer, tablet or phone
Send money fast by instant credit transfer
Get additional services in KBC Mobile, such as Goal Alert, Apple Pay and a digital safe
Make cash withdrawals in euros at KBC/CBC/KBC Brussels ATMs

Make cash withdrawals in euros at other ATMs in Europe
Do your banking at our self-service terminals or branches
Make paper-based transfers at the counter
Replace your card if needed


Credit card, subject to your application being approved

Notifications (text alerts for 'secure card use', 'rejected payment orders' and 'incoming payments')
Overdraft facility (KBC Budget Facility)
Replacement card reader

A KBC Plus Account gives you the option of adding a free credit card*. What's more, the card can be tailored at any time to meet your personal needs, thanks to a range of optional, fee-based insurance packages and service packages.



| | |
| --- | --- |
| For a KBC Plus Account with free KBC Credit Card*, you pay: | 3.25 eurosa month |
After opening your account and before getting your card, KBC Mobile is updated with your card details so you can already use them to make payments. Link your card details to your Apple or Google Wallet, or to your Fitbit or Garmin app and pay right away with your smartphone or smartwatch.

Move hassle-free from another bank courtesy of our free bank switching service. We'll sort out virtually everything for you within eight business days.

Get going with the KBC Business Pro Account and keep personal and business transactions strictly separate thanks to the personal account we throw in for free.

Get lots more added benefits with the payment features included in our young person's account – free of charge. 

Even if you don't currently have Belgian citizenship or a permanent address in Belgium, you can still apply online for a current account with us. It's important to remember that when you arrive in Belgium, you must go to your branch to sign for and pick up your debit card. Be sure to take along your ID card and residence permit.

Account details
| | |
| --- | --- |
| For a KBC Plus Account with free KBC Credit Card*, you pay: | 3.25 euros a month |
| Second debit card | |
| Personalised debit card | |
| Replacement card reader | |
| Cash withdrawals in euros at other ATMs in Europe | |
| Cash withdrawals in euros at counters | |
| Online banking | |
| Paper-based euro transfers or over-the-counter transfers | |
| Instant credit transfers | |
| Free service available through KBC Mobile: digital safe | |
| Apple Pay | |
| Goal Alert | |
More information
*Subject to your application being approved
The KBC Credit Card is a credit card issued by: KBC Bank NV, with registered office at Havenlaan 2, 1080 Brussels, Belgium. VAT BE 0462.920.226, RLP Brussels, FSMA 026 256 A.
The KBC Flex Budget facility is an open-ended credit facility linked to the KBC Credit Card and used as an additional means of drawing credit.
Lender and card issuer: KBC Bank NV. Subject to your card or credit application being approved by KBC Bank NV.
Your intermediary is the first point of contact for any complaints you may have. If no agreement can be reached, please contact KBC Complaints Management, Brusselsesteenweg 100, 3000 Leuven, complaints@kbc.be, tel. 016 43 25 94 or ombudsman@ombudsfin.be, www.ombfin.be. This does not affect your legal rights.