Watching your income drop noticeably as the month progresses is not a good feeling. Especially when you suddenly see something you really want to buy. Or when you receive an expensive bill... Fortunately, there are a lot of tips to build up a cash reserve. This way, you will be able to do something fun with that money later on and you will be prepared for a potential financial setback.

Track your income and expenses using KBC Touch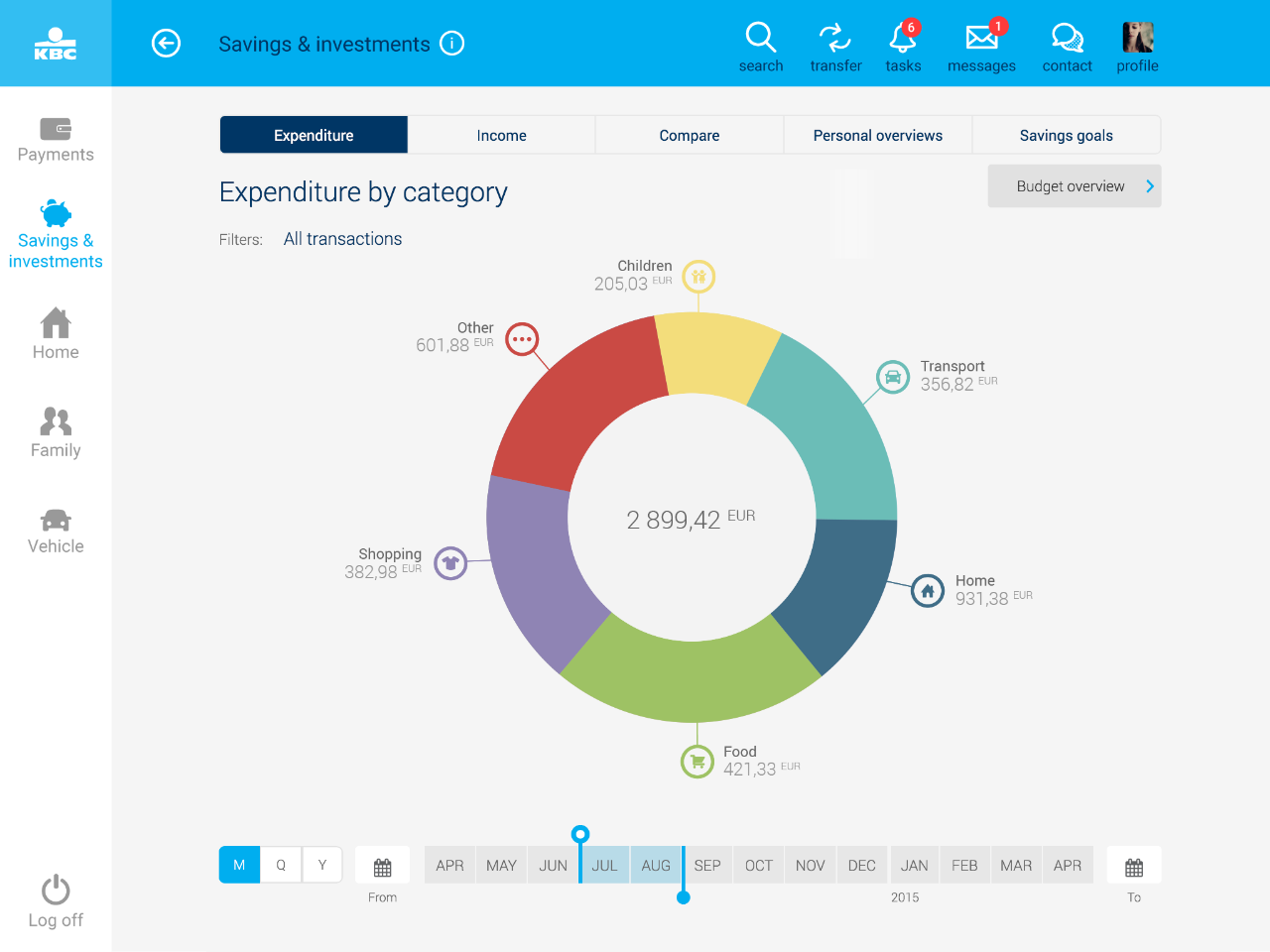 Forget the old-fashioned housekeeping booklet, using KBC Touch you can view all your income and expenses digitally. Thanks to a clear graph, you can quickly see how you spend your money each month. Whether it's spent on food, transport or children, everything is neatly accounted for to the nearest euro cent.
You can also monitor budgets using KBC Touch. This way, the coloured status bars immediately show you whether you are approaching the set budgets.

The art of saving is something you can learn
Everyone tries to live by a certain standard of living and saving seems to put that at risk. But it doesn't have to be like that. You can often save without sacrificing quality. That's why you should try the following:
List your fixed costs (electricity, telephone, internet…). Check to see whether you can get a cheaper formula that better suits your consumption. 
Cancel any subscriptions that you don't actually use. Busy period or long holiday? Leave that monthly subscription to your favourite streaming service for what it is.

Do your shopping at the same stores whenever possible. You often get great discounts with a loyalty card.
Schedule your shopping. For example, do you do your Christmas shopping at the last minute? Then you often pay a lot. 
Make your more expensive purchases during the sales. Keep an eye on prices throughout the year, so you know if you get value for money. Highlight Black Friday in your calendar.
Be aware of your environment. Don't leave lights on unnecessarily. The heating doesn't always have to be switched on. Especially when all the doors are wide open. 
If necessary, make adjustments to your lifestyle. For example, bring your own food instead of buying sandwiches all the time. Oh, yeah, in a lunch box, not in silver foil.

Even more solutions
Of course, the above points are just a few of the many tips you can use to save money. Depending on your situation, there will undoubtedly be more possibilities to save some extra money at the end of the month. So take a look at what you spend your money on and whether it could be cheaper in the future.

Always want to be covered for unexpected costs or major purchases?