Payments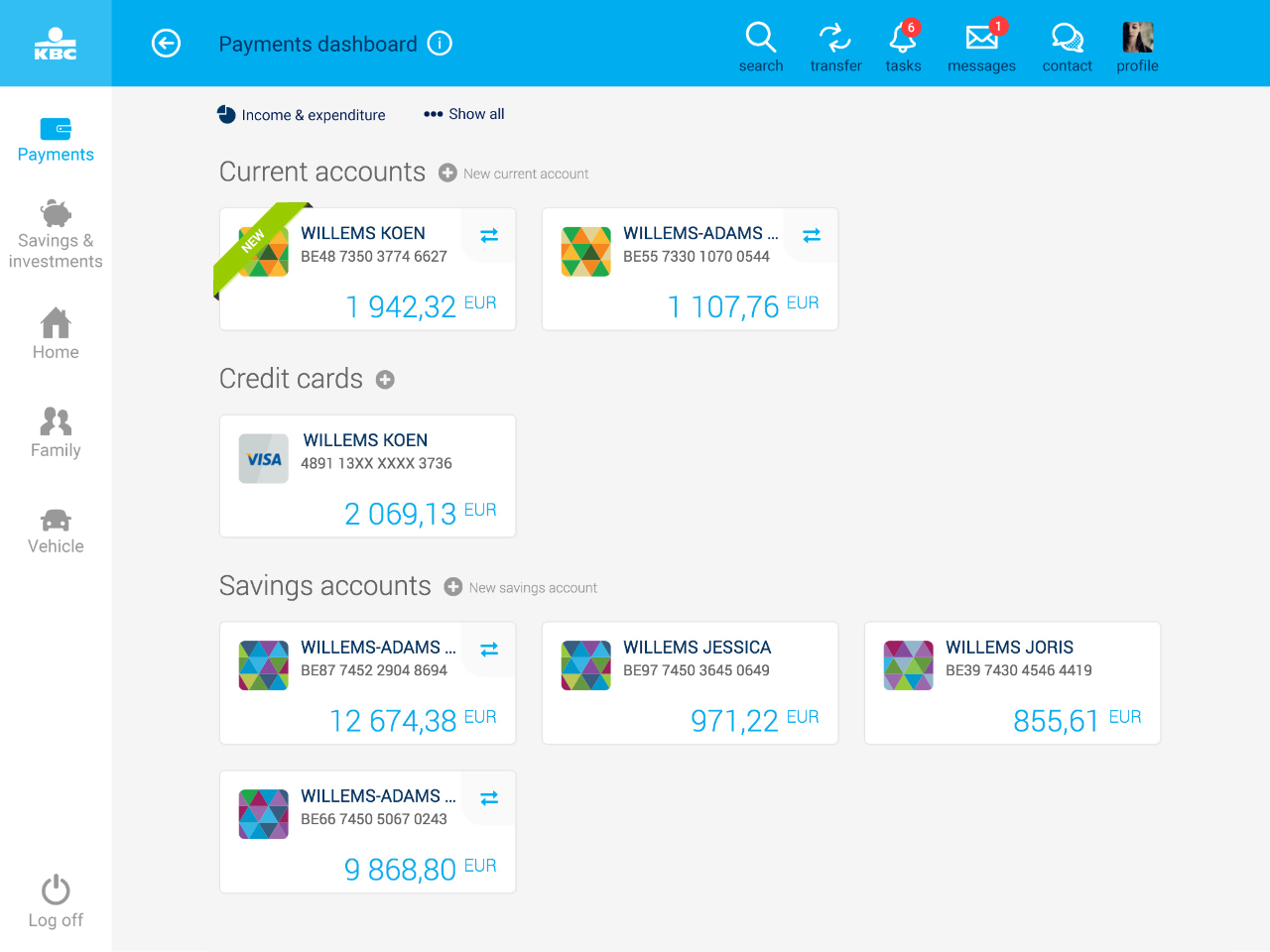 After logging in to KBC Touch, the first screen you will see is the Payments one. It gives you an at-a-glance, structured overview of all your accounts and cards.
You can also arrange your accounts in your preferred order.
More possibilities with Payments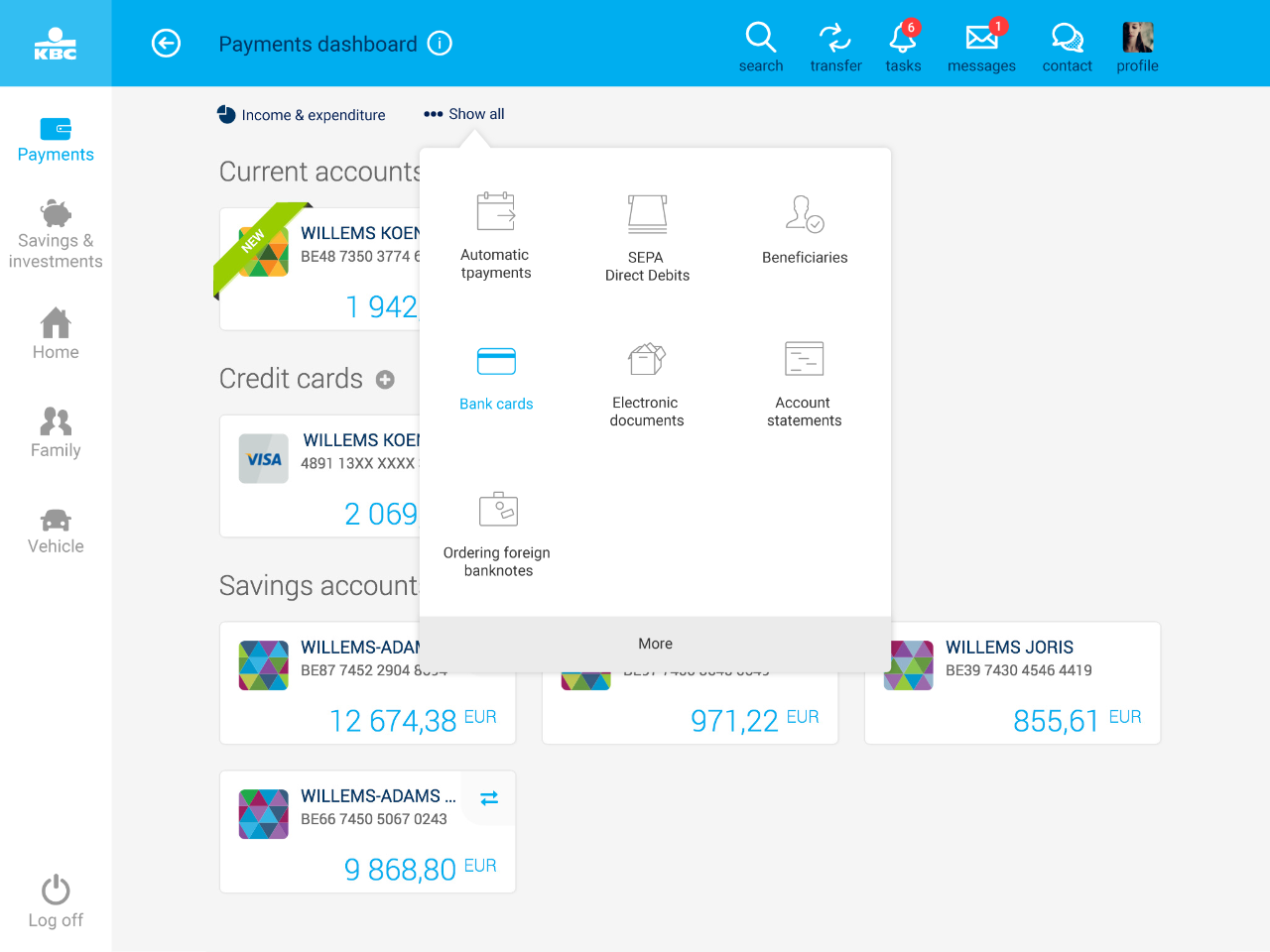 The Menu button appears at the top of each page. Click it to get additional options in Payments, for example Standing orders, SEPA Direct Debits, Beneficiaries.
View payments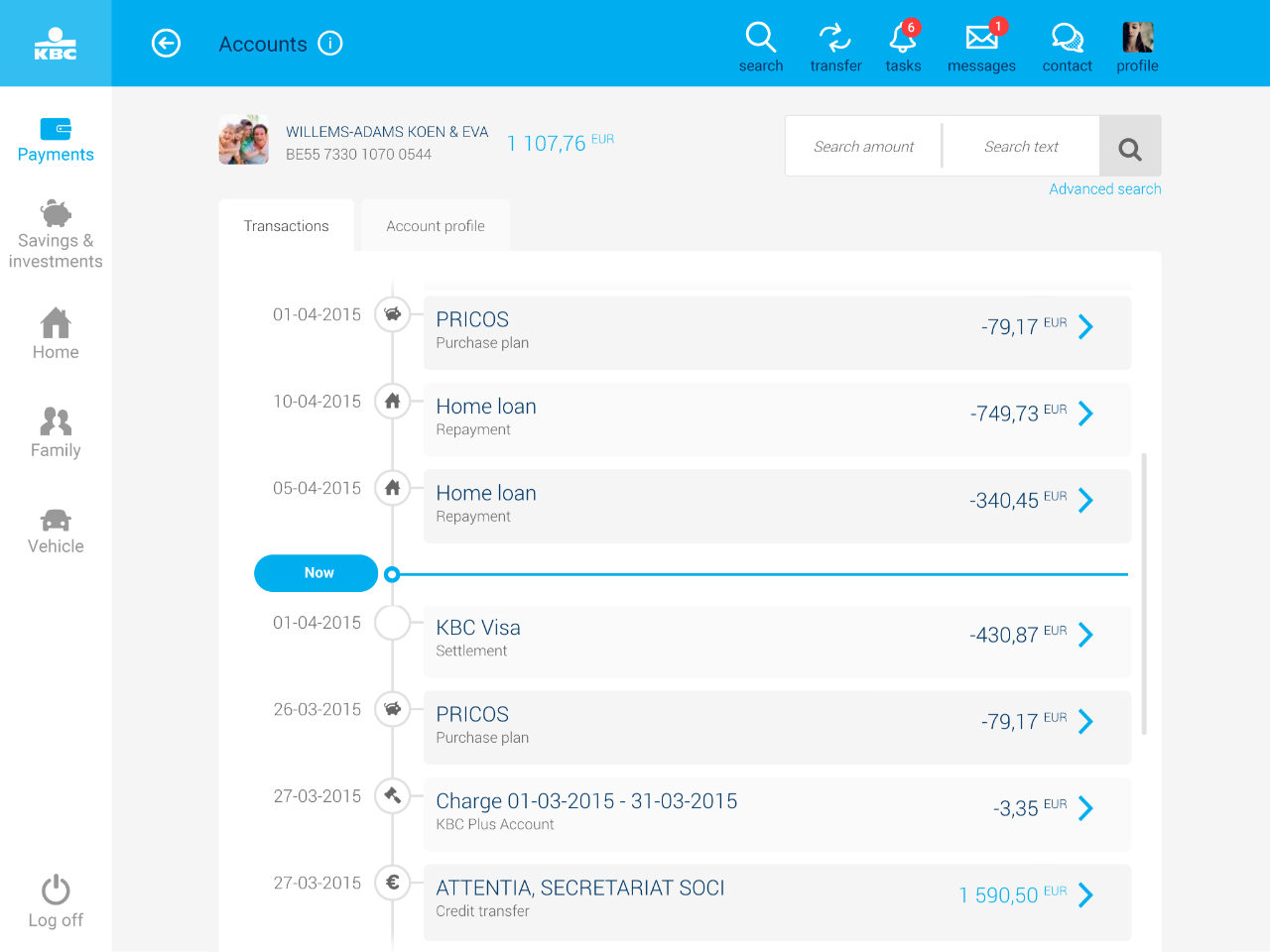 Selecting one of your accounts opens up the detailed overview of your transactions. You will then see a handy overview of:
expenditure
planned expenditure, such as credit transfers, automatic (savings) orders or loan repayments
information on your account (holder, available balance)
At present, you cannot view specific reports or search orders on specific transactions, but this feature will be available from the end of November.
Sending money
SEPA Credit Transfers
Transfers that need to be signed by more than one person
For some accounts, transfers have to be signed by several people. This is arranged by granting everyone a special power of attorney over the account in question.
How it works:
The first person creates the transfer and signs it.
All the other persons who have to sign receive a notification telling them they have 14 days to do so.
The transfer can be seen under 'Payments to be signed' in the account's details.
Everybody signs the transfer in KBC Mobile or KBC Touch.
The money is transferred as soon as everyone has signed.


International transfers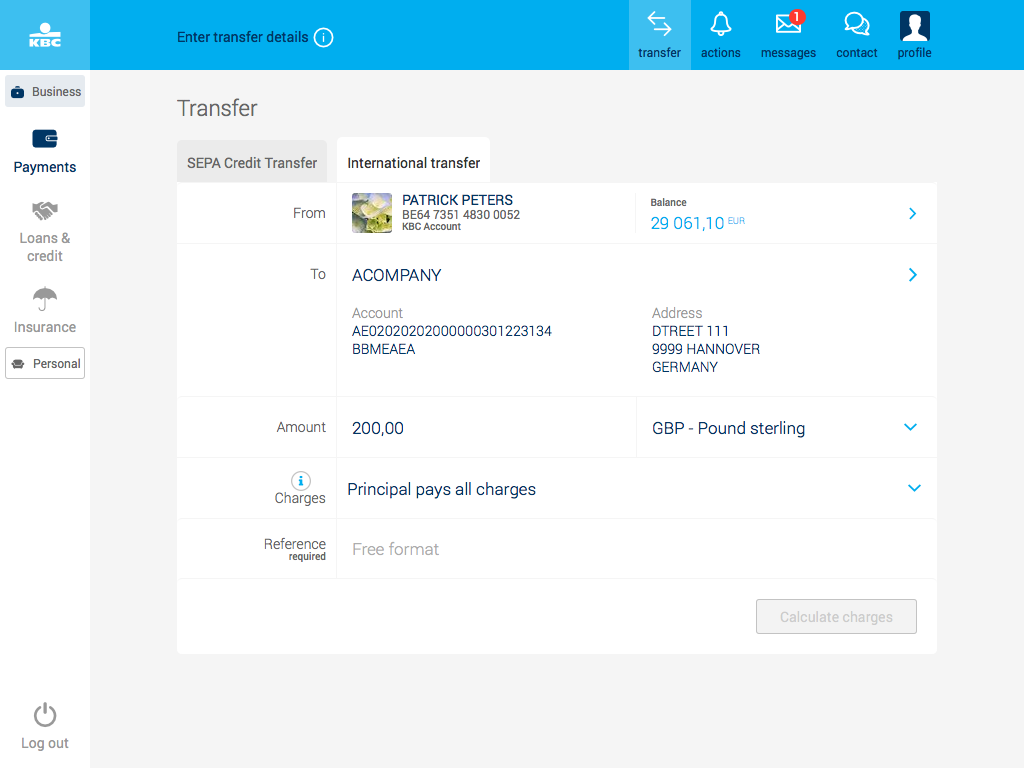 International transfers are possible from October. 
An international transfer is a transfer to a non-SEPA country or in a currency other than the euro.

Click the second tab next to the SEPA transfer form to open the International transfer form.
You need to enter the following details to carry out an international transfer: 
The beneficiary's name, address and account number

BIC / SWIFT code or the bank code of the beneficiary bank
A reference for transactions to accounts other than your own. 
Charges apply to international transfers. Overview of charges.  

You'll receive an estimate of the charges before signing the transfer .
Get e-statements and reports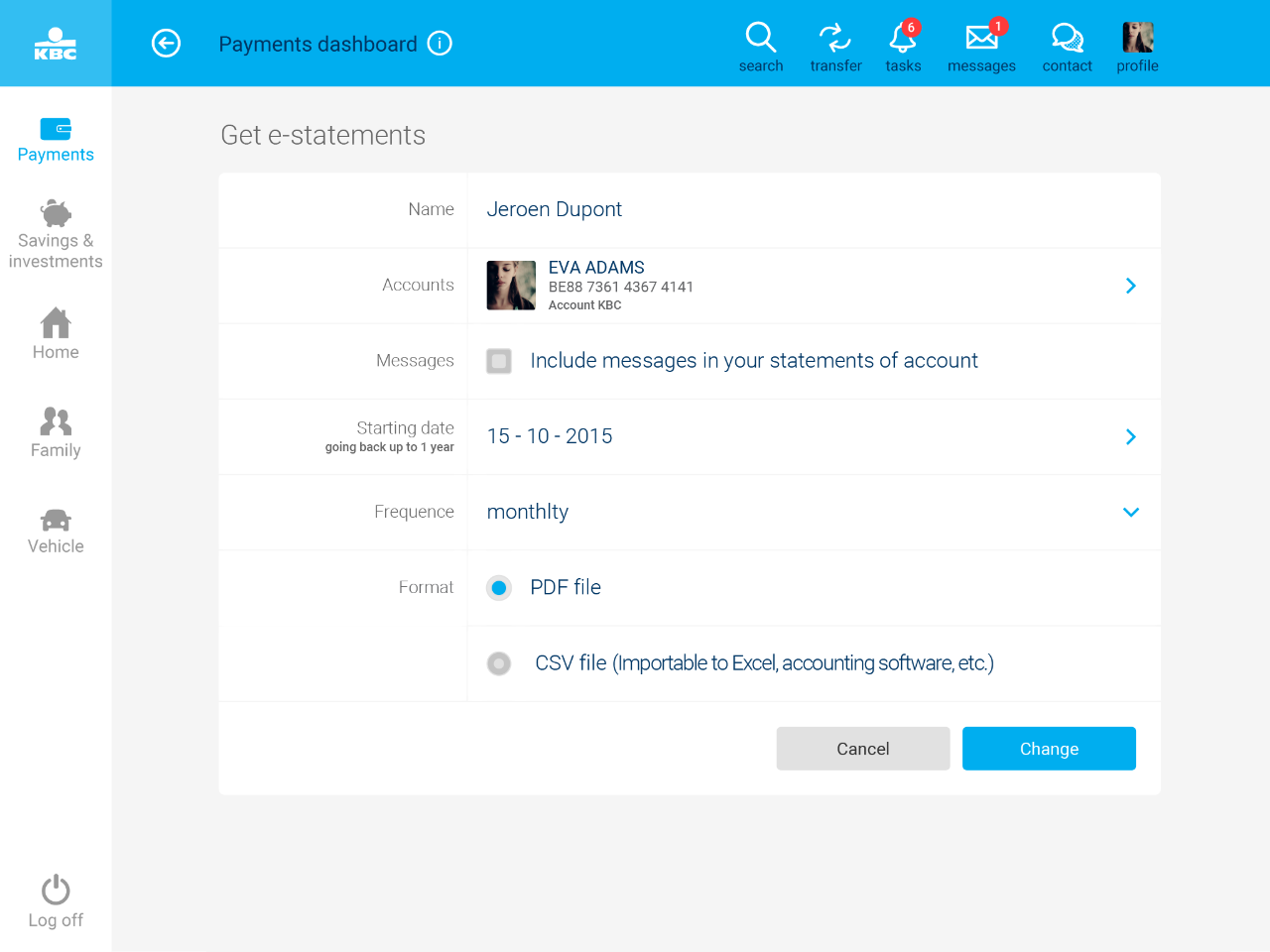 Account statements 
The 'Payments' menu has an 'Account statements' feature that lets you get e-statements weekly, monthly, quarterly or yearly as a PDF or CSV file showing your account transactions within a given period.
If you're getting your statements this way for the first time, they'll be available the next banking day.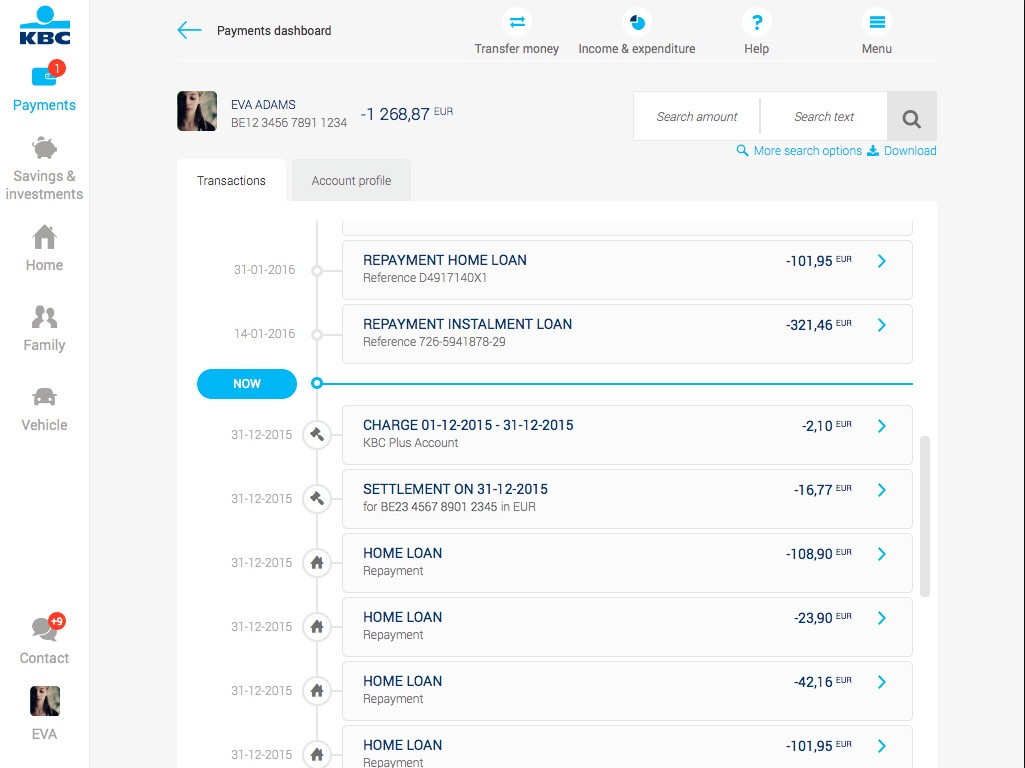 Reports
You can search for specific transactions and instantly print them off or save them in a separate view. Just select one of your accounts and use the search feature at the top right of your screen to find transactions, then select 'Download' to open your report or save it as a PDF file.
If you're trying to find transactions going back more than a year, you'll need to search by calendar year.