Our KBC Mobile app lets you do much more than just bank with us. Pay for parking, buy public transport tickets, order service vouchers and more besides. Do it all from a single app.

New services
Book a Brussels Airport Fast Lane Pass or Lounge Pass

Want more time and peace of mind when travelling? Easily buy yourself a Brussels Airport Fast Lane and Lounge Pass using KBC Mobile.

eBox: view your government documents digitally

eBox is a secure electronic mailbox, an assembly point where you can securely receive, keep and manage your government documents digitally: calculation of your social security contributions, administrative fines, details on child benefit, your taxes, and more. The number of government documents that can be viewed there is constantly increasing.

Store key details and documents securely in your digital safe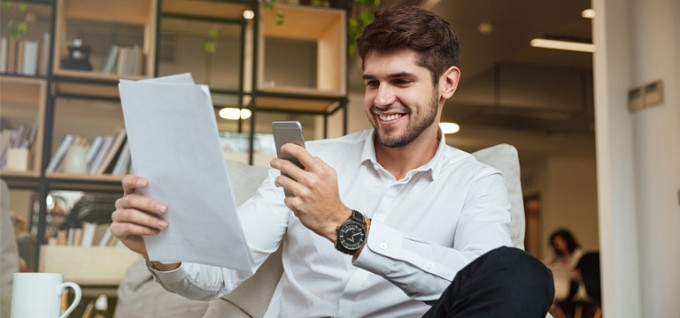 Our KBC Mobile app's digital safe feature lets you keep key details at your fingertips. Store important information and documents like passwords, credit card numbers, warranties, diplomas and more.

Tap into a growing list of services
Mobility
Cheques
Check your meal voucher balance

Link your Monizze card to our app to check your balance and recent transactions on your phone. Stay updated on your Monizze meal, eco and gift vouchers without needing yet another app!
Order service vouchers

Our app lets you order and pay for service vouchers with ease, check your e-voucher balance and maximise tax relief on your voucher use.
Other services
Send a registered e-mail
From now on, you can easily send important information by registered e-mail in KBC Mobile. Set up your e-mail in a few clicks and follow the status in your overview screen. Our partner IPEX will ensure that everything runs smoothly and safely.
Paypal
You can link your PayPal account with KBC Mobile and get a 24/7 view – no matter where you are – of what you've spent and what's been paid into that account.
How do you start using KBC Mobile's additional services?
Already with us and using KBC Mobile?
Great! Dive into your app and start tapping into our additional services.
Already with us but not using our KBC Mobile app yet?
You're nearly there! Get our fully-featured app and all it can do for you.
Not with us yet?
Download KBC Mobile and discover the additional services that are there waiting for you.

Questions?